Printed from: http://petersburgcity.com/news/city/2006/05/03/summit/
City news, 03.05.2006 12:04
Putin, Bush discuss upcoming summit in St Petersburg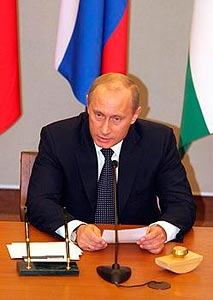 President Vladimir Putin had a telephone conversation with U.S. President George W. Bush on Monday.
The presidents discussed the bilateral agenda in light of the preparations for the upcoming summit in St. Petersburg, the presidential press service said.
Putin and Bush expressed satisfaction with the implementation of agreements reached during the Russian president's visit to Washington in September of last year and subsequent contacts.
The two leaders noted progress in anti-terror cooperation and discussed interaction on topical international issues, including Iran's nuclear program, which is to dominate numerous consultations at various levels in the coming days.
News source: www.itar-tass.com