City news
City Parliament Reviews Policy on Stray Animals
05.05.2006 10:53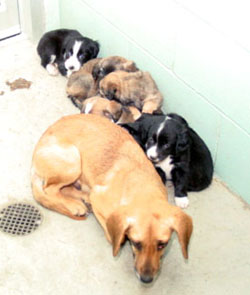 By Galina Stolyarova
Staff Writer
A new, long-awaited law on domestic animals is being reviewed by the city's Legislative Assembly. The document, if passed, will put an end to the ongoing practice of night raids aimed at catching and exterminating stray domestic animals. The review will last for several months and the parliament is expected to make a decision before the end of the year.
According to Yury Andreyev, St. Petersburg's chief veterinary surgeon, of a total of 250,000 dogs in the city, 10,000 are homeless. Independent experts estimate the figure is at least twice as high. According to the Baltic Care for Animals charity organization (BCA), between 4,000 and 6,000 dogs are killed every year by various local authorities.
Igor Rimmer, deputy head of the Judicial Commission of the St. Petersburg Legislative Assembly welcomed the move, saying it is high the issue was tackled.
Many environmentalists agree that the most efficient and humane strategy for controlling the population of stray animals in large cities is sterilization — a system not yet used in St. Petersburg, despite several statements from Governor Valentina Matviyenko endorsing the policy.
The BCA has been carrying out 100 sterilization operations per month for the past three years.
Although City Hall adopted a sterilization plan for stray animals in September 2005, no funding has yet been allocated.
The law calls for stronger punishments for dog owners who unleash their pets in local parks and gardens.
"There are too many irresponsible people walking their dogs without a leash and a muzzle," Rimmer said at a news conference in Rosbalt News Agency this week.
Svetlana Mirolyubova, an advisor with the St. Petersburg Legislative Assembly, concurred.
"Dogs, regardless of their size or breed, have to be legally acknowledged as a high source of danger," Mirolyubova told online news resource Fontanka.ru last week. "This way the owners won't be able to escape responsibility if their pets attack someone, be it indoors or outdoors."
Unlike in Western Europe, in Russia there is no history of legislation covering stray or domestic animals. A federal law passed by the State Duma in 1999 was vetoed by ex-president Boris Yeltsin on the grounds that the document "was lacking a subject." The Moscow City Duma has been debating the issue for the past three years without any tangible results.
Rimmer recommended studying Western experience of special police task forces dealing with crimes committed against animals. According to statistics collected by the Moscow-based Serbsky Institute for Forensic Psychiatry, 85 percent of prisoners serving terms for murders and other severe crimes were reported as having tortured animals.
The law also suggests the allocation of budget funds for the construction of shelters and cemeteries for stray animals.
At present, there are no state-run shelters for lost or stray animals in St. Petersburg. The several small shelters funded by local charities that do exist are unable to deal with the scale of the problem.
News source: times.spb.ru


Print this news
---
City news archive for 05 May' 2006.
City news archive for May' 2006.
City news archive for 2006 year.