City news
Island of freedom
05.19.2006 12:40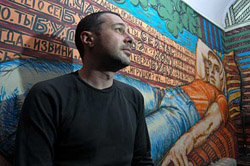 By Sergey Chernov
Staff Writer
A new bar named after Fidel Castro looks set to become a popular hangout.
Fidel, the new bar that musician Anton Belyankin is opening this week, is likely to repeat the extraordinary success of Datscha, the local favorite with expats, the artsy crowd and students that he co-founded two years earlier.
Located right next door to Datscha, which Belyankin quit early last year, in the premises formerly occupied by a sports store, the new bar will follow the formula that has proved to be successful with a bunch of recently-opened, youth-oriented indie-disco bars — a charismatic host, friendly staff and good music.
Named after Fidel Castro, the Cuban tyrant, the bar will be partly slanted toward "left-wing, anti-fascist" youth, according to Belyankin, 38, who picked up the idea from Western European alternative bars that he has visited and performed at when touring with the local ska-pop band Dva Samaliota.
"There is no bar in the city where an alternative crowd and anti-fascists could gather which could be kind of a center for them," he said.
Although the bar's name honors Cuba's aging dictator, Belyankin links the name to the "Island of Freedom," as Cuba was known in Soviet propaganda.
"Of course, in a certain sense Castro is a dictator. But on the other hand, what about the romanticism of that period? 'Cuba is an Island of Freedom'," he said.
"Propaganda may look very attractive from outside. It was well presented and well-worded. I wanted this romanticism, the romanticism of revolution. Not a bloody mess and this scary dictatorship."
The venue, still being kitted out earlier this week, is decorated by wall paintings by artist Konstantin Fyodorov representing his vision of Fidel, according to Belyankin.
"We wanted to make a sunny place, a bar not about Cuba but a bar with the feeling that sun shines through the windows all the time," Belyankin said.
Music will be central to Fidel's atmosphere.
Belyankin, who performed as a DJ at Griboyedov and Datscha under the moniker M. Atom (which stands for Mirny Atom, or Peaceful Atom), is decisive about continuing DJing at Fidel. With an impressive collection of vinyl records, he concentrates on rock — from 1970s hard rock to The Sex Pistols and the Violent Femmes.
"I'd like to have as much rock as possible," said Belyankin, adding that other DJs will perform at the bar as well such as Alexander Korbukov, also known as DJ Mono, who specializes in the 1960s and early 1970s rock and Motown artists.
Apart from DJs and background music, Fidel is set to hold live concerts, with a gig by Korabl, the cult band formed by Moscow artists and architects that influenced the now hugely popular local band Leningrad when it started in the late 1990s.
"We don't want to do concerts for concerts' sake, just to draw people here, but to try to make each concert a major event in the city," said Belyankin.
"To have a young interesting band or a renowned band that rarely performs — something that would be interesting to listen to and to look at. If we don't find anything interesting for a particular night, there simply will be no concert."
Bands will perform at 9 p.m. on Friday and Saturday, while DJs will perform from 10 p.m. until the early morning. Belyankin said a minimum cover (between 100 and 150 rubles) will be taken when a band is playing.
"The payment is for musicians to make some money, because we'll give 100 percent of it to the musicians," he said.
Both Fidel and Datscha are located in the massive building of Maly Gostiny Dvor, the 18th century trade quarter built by Italian architect Giacomo Quarenghi, now in need of repair.
"When we were launching Datscha, we hoped this whole street would turn into kind of a entertainment center — not restaurants and casinos, but bars and clubs with good music, where a good crowd can come to. Sort of egalitarian, human-like places."
Belyankin has impressive experience as a club art director, first at the now-defunct nightclub Nora and then at Griboyedov, the legendary bunker club which will turn 10 later this year. He launched Datscha with his former partner Anna-Christin Albers, who continues to run the place, in May 2004.
"I simply wanted to try and open a bar because all my friends said how difficult, almost impossible, it would be," said Belyankin.
"And here you are — here's Datscha: great new DJs, great music, great atmosphere, everything is wonderful, and all is done on the cheap and very quickly. It worked just great, it's a good example."
Although Datscha is apparently a financial success, Belyankin said he did not have great commercial ambitions.
"I didn't have the goal of making as much money as possible," he said.
"My demands are rather limited. I already have a good guitar and I have a great amp as well. To make money in such a manner is good, but it's boring."
"To me it's not business, it's rather a way of spending time. Like musicians — they record a new album. It's something new."
Belyankin also co-manages Hotel California, a hostel for foreign musicians and visitors that he launched with Dva Samaliota drummer Mikhail Sindalovsky last year. According to him, the hostel has become popular after being listed in the Lonely Planet guidebook.
"It was the same idea — not to make lots of money or develop the hospitality industry or whatever, but just to prove that it is possible," he said.
"If you want to do something for people, rather for making money, then it turns out very well. The same is true for Fidel."
Dva Samaliota, the seminal local 1990s band which Belyankin co-founded in 1990, is also active, having performed at Platforma earlier this month. The band's guitarist Andrei Gradovich, who co-owns Fidel with Belyankin, will also work as a bartender.
Belyankin said he would like Fidel, which can hold around 100 people, to occupy a place similar to Saigon, the now-defunct cafe on the corner of Nevsky Prospekt and Liteiny Prospekt that became, unofficially, a home for underground artists, writers and musicians in the 1960s through the 1980s.
"It's something that we miss now — a bar where you come to and meet some people you know, chat with them, discuss something," he said.
"But not in such an underground, marginal way like Saigon, although nobody broke plates or pissed on the walls there. I don't know — you just want sometimes to sit in a good bar. It is convenient, it's in the center. And sometimes there is good music too."
Unlike the other similar bars, Fidel boasts spacious and clean toilets with mirrors which it hopes to keep in a perfect state. And, according to Belyankin, there will not be teenage entertainments such as table football.
Even if the bar has a success similar to Datscha's overnight popularity, Belyankin said he wants to keep things quiet.
"We want to have an administrator at the entrance so that he will not let anybody whom we don't know in. Or don't let the people with unpleasant faces in. It is not designed to be a hullabaloo just as Datscha was not. The idea of Datscha was to have a house party every night."
Fidel bar, at 9 Dumskaya Ulitsa, opens with a concert by Korabl at 8 p.m. on Saturday.
Photo by Alexander Belenky
News source: sptimes.ru


Print this news
---
City news archive for 19 May' 2006.
City news archive for May' 2006.
City news archive for 2006 year.