City news
World of words
05.26.2006 13:12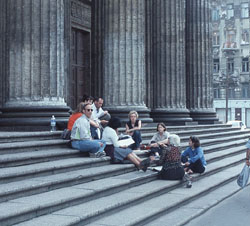 By Adam Cushman
Special to St. Petersburg Times
Now in its seventh year, the well-established Summer Literary Seminars event branches out to include a Russian-language workshop.
In 1999, Russian-born writer Mikhail Iossel founded the Summer Literary Seminars (SLS) in St. Petersburg. In just seven years, SLS has achieved the status of one of the most prestigious literary seminars in the world, bringing to St. Petersburg some of the world's most famous and respected authors and poets, up-and-coming writers from the finest programs in North America, as well as established and unknown writers from every edge of the globe.
This summer, SLS will launch a new section of the seminars for Russian writers and poets.
"The SLS Russian Language Creative Writing Workshops are making a genuine literary workshop available to young Russian writers so that they can develop their craft outside of the pressures of the commercial economy," SLS co-director Jeff Parker said.
The Russian Workshop will be a multi-genre class led by Sergei Gandlevsky, winner of numerous literary prizes and a figure who was once named Russia's "most important living poet."
"Partially it's a way for SLS to give back to the literary community that has welcomed us over the past nine years, but it also furthers our participant's opportunity to interact with and discover the younger generation of writers, many of whom have published work abroad in books and journals through connections with writers associated with SLS," Parker said.
The new workshop creates a unique opportunity for Russian writers to not only study and improve their craft under the wing of one of Russia's true greats, but also to become involved with SLS at every level. This includes attending readings, lectures, panels and various literary events, as well as interacting with leading western writers, who include or have included in the past George Saunders, Padgett Powell, Francine Prose and Dave Eggers. Russian poets Arkady Dragomoshchenko and Alexander Skidan, among others, will also be attending this year's seminars.
Todd Shy, a U.S.-based writer and a participant at last year's SLS, said that the St. Petersburg setting greatly adds to the value of the event.
"SLS offered the unique combination of first-rate writers and the haunting literary setting of St. Petersburg," Shy wrote in e-mailed comments this week.
"The program struck the perfect balance between planned events and free time. Quirky tours like the Mad Monk's Walk (on the trail of Rasputin) or a guided walk in the footsteps of Raskolnikov were perfect springboards for later explorations and reflections.
"The staff were knowledgeable and helpful, from restaurant tips to obscure questions about Russia's literary past. The writers were accessible, the White Nights accommodating, and the city packed enough strangeness to last a lifetime."
Iossel said that it was for reasons such as these that he decided to hold the worldwide event in St. Petersburg.
"St. Petersburg fairly exudes forlorness and unfathomability," Iossel said. "It's as much a product of its own literary mythology as it is a place from whence the greatest Russian writers and poets of international bent, as it were, emerged: Pushkin, Dostoyevsky, Nabokov…We expose [participants] to the place and the people representing the kind of reality they may not have known existed."
Shy had his own special recollection of last year's SLS.
"A friend of mine and I packed off to find the site of Dostoevsky's mock execution. We're still not sure we found it, but our wanderings that morning were unforgettable."
For more information about SLS or attending the Russian Workshop, please visit www.sumlitsem.org
News source: times.spb.ru


Print this news
---
City news archive for 26 May' 2006.
City news archive for May' 2006.
City news archive for 2006 year.