City news
Russia's second city catches up to Moscow
05.26.2006 12:18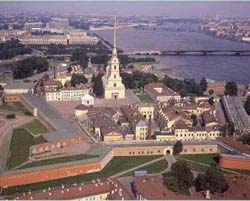 After 15 years of playing second fiddle to Moscow's booming, post-Soviet capitalism and explosive residential real-estate market, this grand city is beginning to catch up.
Real-estate professionals said that demand for elite, residential properties was increasing as executives from foreign and Moscow-based companies looked for housing after opening headquarters and satellite offices in Russia's second city.
Average residential prices here grew nearly 70 percent from 2002 to 2004, according to data from City Realty, a brokerage firm. From April to May, residential prices went up 4 percent, to an average of $1,240 a square meter.
In the most prestigious parts of the city, residential prices have increased even more, with renovated apartments in 18th-century buildings in the central Golden Triangle zone now averaging from $6,000 to $10,000 a square meter.
Apartments in that area often have views of the Neva River or the former residence of Alexander Pushkin, as well as proximity to the white columns of the Winter Palace and Hermitage Museum. A renovated, one-room apartment here can start at $700,000, said a manager of Astera Real Estate.
"Living in the center of the city is like living in a museum and there are only so many apartments available," said Irina Pavlova, manager of the residential department at Astera. "We have no reason to believe the prices won't continue to grow."
Industry experts said Russia's steady economic growth from high oil prices and a perception of political stability is expanding beyond Moscow. Incomes, particularly in cities, are rising and Russians have more money to spend.
"Investors are choosing to put their money in real estate rather than into banks or the Russian stock market because they believe real estate returns as higher and less risky," said Leonid Karankevich of City Realty, a Western- owned and operated brokerage that caters to foreign clients.
Still, much of the attention on St. Petersburg can be attributed to President Vladimir Putin, who openly favors his hometown. Millions were spent on refurbishing it for the city's 300th anniversary celebrations in 2003. In July, Putin will act as host for a summit meeting of the Group of 8 industrialized nations in a renovated palace here. And the government plans to move the federal court system to the city by 2007.
St. Petersburg's economy also has attracted such multinational firms as Toyota and Ford, which have opened production centers here, along with Moscow law firms and businesses. In addition, tourism has been increasing by as much as 20 percent a year and, Karankevich said, investment properties for short-term rentals can bring returns of 15 to 25 percent a year.
Foreign businessmen in Russia complain of endless red tape and corruption, and some investors here said the real-estate market is no different.
"If you try to do everything by the book, it just seems impossible because the bureaucracy is stifling," said Ian Day, an Englishman who has purchased and remodeled four apartments in the city center. "The amount of paperwork you need from the start to finish your project is enormous, even for simple remodeling and repairs that I can do myself."
To simplify things, Day paid an architectural firm to take care of the paperwork for his second apartment.
Overall, many buyers said, it is hard to be sure that your agent will disclose any problems with an apartment and, because most transactions are carried out in cash, it is not unusual for a buyer to suddenly demand more on the day of sale.
"I don't see this changing any time soon," Day said. "Prices are going up and everyone is trying to make money."
While most foreign investors are focused on apartments in St. Petersburg's 18th- and 19th-century buildings overlooking the canals, its growing middle class is looking to elite, all-inclusive housing developments in the outskirts, where sturdy new construction promises prestige, parking and reliable sanitary systems and electrical wiring. Prices in these developments actually can be higher than in the city center.
One such development - although more unusual than most - is Northern Versailles, a development that is to contain 42 copies of czarist-era and European-style palaces. Although the buildings will range in size from just 300 to 850 square meters, prices start at $1,700 to $4,400 a square meter.
The project, about 30 minutes from the city's center, already has sold 12 of the mock palaces. "When you buy a palace in our development, you are buying not just elite housing, but a certain status," boasted Anna Prozorova, sales director at the developer, Concord Management and Consulting.
St. Petersburg has yet to reach the level of Moscow prices, where sales in the most elite areas have reached $18,000 a square meter. But the two cities share many of the same investment risks, particularly property titles, which can be complicated by a post- Soviet system that often involved shady dealings and hidden ownerships.
Real-estate experts said there were additional risks in buying an apartment in one of St. Petersburg's older buildings, many of which are in dire need of renovation after nearly 100 years without substantial repairs.
The city was constructed on a swamp at the orders of Peter the Great in the early 1700s. European experts were brought in to design the pastel facades and elegant columns of the central district, creating a European feel than is a sharp contrast to the Stalinist skyscrapers of Moscow.
But now the buildings often have problems with decaying sewer and water systems, wooden beams that increase fire risks and dangerous electrical wiring. In addition, city historical preservation laws imposed limits on what can and cannot be torn down or renovated.
"There is a lot of nostalgia for these old buildings," said Yulia Drovyannikova of Jones Lang LaSalle real estate. "But the truth is, many of them need attention now or they will not survive. The big question for investors is whether or not they want to deal with the hassles and cost of renovation, or if it would be easier and cheaper to build something out of glass and steel outside of the center."
Strapped for cash, the city has been auctioning some of its crumbling palaces, although buyers must agree to pay for renovations approved by the city's historical preservation committee. So far, most of the properties sold have gone to commercial interests, like banks and shopping-center developers.
News source: iht.com


Print this news
---
City news archive for 26 May' 2006.
City news archive for May' 2006.
City news archive for 2006 year.