City news
2007 IIHF European Champions Cup Draw in St. Petersburg
06.01.2006 11:51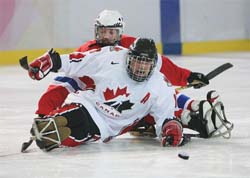 Europe's Super Six Clubs to find their match in European Champions Cup draw in St. Petersburg on Thursday.
The set-up of the two three-team divisions for the 2007 IIHF European Champions Cup (January 11 – 14, 2007) will be decided in St. Petersburg, Russia on Thursday, June 1 as part of the ECC General Assembly meeting on that day.
The IIHF European Champions Cup is Europe's prime competition for club teams and crowns the club champion of Europe. The ECC held its inaugural tournament in 2005. Russian league's Avangard Omsk (in 2005) and Dynamo Moscow (in 2006) were the previous winners.
The champion clubs of the top six ranked European countries will be seeded according to the final standing* in the 2006 ECC.
The teams, all of them who will be participating in the ECC for the first time, will be seeded to the two divisions from the following pairs:
First draw: AK Bars Kazan (RUS) / HPK Hämeenlinna (FIN)
Second draw: HC Lugano (SUI) / Sparta Prague (CZE)
Third draw: MsHK Zilina (SVK) / Farjestads BK, Karlstad (SWE)
As in the last year, the divisions will be named after two legends of international hockey – Aleksandr Ragulin (RUS) and Ivan Hlinka (CZE) – who both passed away in 2004.
Alexander Ragulin Division (A)
A1 (team from first draw)
A2 (team from second draw)
A3 (team from third draw)
Ivan Hlinka Division (B)
B1 (team from the first draw)
B2 (team from the second draw)
B3 (team from the third draw)
The teams play a single round-robin within their division on January 11-13 and the divisional winners will meet in the Gold Medal game on January 14. All games will be played at the 12.350-seat St. Petersburg Ice Palace.
A tentative game schedule will be presented on Thursday. The schedule will be finalized following the requests from TV-broadcasters.
The "Super-Six" club teams of Europe will play for a record prize sum of 800.000 Swiss francs (EUR. 513.257). The ECC General Assembly, with the participation of representatives from the six clubs, will decide on the distribution plan of the prize money.
Link:
http://www.iihf.com
News source: eurohockey.net


Print this news
---
City news archive for 01 June' 2006.
City news archive for June' 2006.
City news archive for 2006 year.