City news
Upcoming talks between Putin and Saakashvili in St. Petersburg
06.08.2006 13:39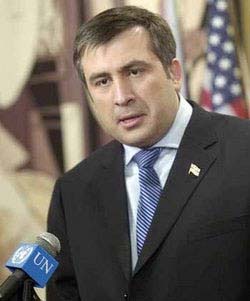 Georgian President Mikheil Saakashvili will meet his Russian counterpart Vladimir Putin on June 13 in St. Petersburg in an attempt to help improve relations between the two nations, which appear to have slipped to an all time low.
President Saakashvili said on June 3 that he will have a "principled conversation" with Putin and added that he will "again extend a hand of friendship" to Russia in order to solve "tough issues" regarding the relationship between the neighbors.
The two Presidents agreed to hold face-to-face talks during a phone conversation on June 3, which according to the Russian President's press office, took place at the request of Mikheil Saakashvili.
These upcoming talks between Putin and Saakashvili will take place ahead of a summit of the leaders of the G8 nations in St. Petersburg in July.
"It is of mutual interest to resume constructive dialogue between [Georgia and Russia]… I will do everything to achieve a concrete outcome from this meeting," Saakashvili said while speaking at a session of the Georgian National Security Council on June 3.
He said that the Russian and Georgian Foreign Ministers - Sergey Lavrov and Gela Bezhuashvili, respectively - have been holding intensive talks over the last two weeks.
"Tough problems have accumulated in the relationship between us and Russia. Our position was always very concrete and directly stated. We are ready to have very close and very constructive relations with Russia," Saakashvili said.
But he added that these relations should be based on the "absolute inviolability" of Georgia's territory; peaceful restoration of Georgia's territorial integrity; as well as on, as he put it, removal of any kind of obstacles, barriers and artificial difficulties in bilateral relations – apparently meaning Russia's ban on the import of wine, mineral waters and agricultural products from Georgia.
"From the very first day of coming into power we said that we are extending our hand of friendship to Russia and I want to reiterate once again that we are ready to once again extend a hand of friendship to our neighbor, our traditional partner; but at the same time we should remember that there are a few issues [that need to be solved] which have accumulated and these issues are very tough and we have a very principle and firm position from which we will not take even one step back because it concerns Georgia's future and the welfare of each of our citizens," the Georgian leader added.
Georgian Parliamentary Chairperson Nino Burjanadze hailed the upcoming talks between the two Presidents and said that the South Ossetian and Abkhaz conflicts will top the agenda of the meeting.
"I think – and this is not my position alone – that Russia has an absolutely unique chance: a big country can make a step and help the neighboring small country in the political settlement of the conflicts, which is an absolutely fair demand," Burjanadze told reporters on June 3.
This announcement regarding the upcoming meeting between the Presidents came after the Russian leader reiterated Moscow's policy of universality. President Putin said on June 2 that Russia has no plans to incorporate "any territories beyond its borders" but he called on the international community to work out a universal approach in respect to conflict resolution issues.
Putin also said that it will be "very difficult" to explain to Abkhazians and South Ossetians why it is not possible for them to separate from Georgia, while independence is possible for Albanians in Serbia.
Mikheil Saakashvili and Vladimir Putin have met twice before. The fist meeting took place in February, 2004 – shortly after Saakashvili was elected Georgia's President. The second meeting was an informal one which was held on the sidelines of a CIS summit in Kazan in August, 2005. In 2005 Saakashvili invited Putin to Georgia, but the invitation was never accepted.
News source: caucaz.com


Print this news
---
City news archive for 08 June' 2006.
City news archive for June' 2006.
City news archive for 2006 year.