City news
Paint, Cops and Combs in Petersburg
07.14.2006 13:18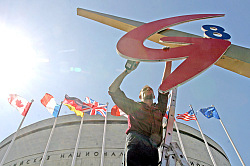 The ride from Pulkovo Airport to the center of town has never been smoother. Only hours from now, columns of armored black cars will sail along Moskovsky Prospekt past impeccably manicured parks and centuries-old facades still gleaming with fresh paint.
A 40-minute metro ride away, near the city's northern border, it's a very different world. Even the trolleycars seem to be bouncing along the cratered streets, kicking up clouds of dust as their undercarriages scrape the pavement.
Tucked away in a sandy courtyard, far from the 20-room cottages where the Group of Eight leaders will be housed over the weekend, is the door to the Rehabilitation Center for Minors, where drug-addicted and HIV-positive children as young as 9 learn how to be children.
But today the centers' halls are still. The children have all been sent away.
It seems, at first, the grimmest confirmation of rumors that have been swirling around the city and filtering through the media for weeks: To make the city look pretty for all the visiting dignitaries, street children, the homeless and other "undesirables" are being forcibly rounded up and dumped beyond the city's limits.
Along with those reports have come sometimes bizarre stories of St. Petersburg factory workers being issued instructions on how to comb their hair during the summit weekend, prohibitions on hanging laundry from apartment windows and endless complaints from St. Petersburg residents about police harassment and traffic snarls that make Moscow's Ring Road seem like a speedway.
In an Internet question-and-answer session with President Vladimir Putin last week, hundreds of questions on the G8 came in -- but only a few dealt with the summit's significance for Russia's international standing. The rest were from embittered St. Petersburg asking when they'd get their city back.
But just as the restored facades in the city center tell little about the crumbling structures behind them, reports of orphans being handcuffed and carted away are far from the reality of the situation, said Vasily Sereda, the director of the Rehabilitation Center for Minors.
"If children were being pulled from the streets, I would know it, and I would be screaming," said Sereda, a bald, goateed doctor and sociologist who founded the center -- his fifth in the city -- to help troubled youth six years ago.
Sereda's genial tone turned serious.
"It would be a sign of absolute inhumanity from the authorities," he said, leaning into his desk during an interview in his office Thursday.
The center's current residents are in the middle of a 21-day stay at a Soviet-era Pioneer camp 70 kilometers north of the city, Sereda said. Together with children from orphanages around the city, they've had summer stays at such camps on the city's dime -- about 7,000 rubles per child -- since 2001.
"What is there to do in the city in the summer? The heat here is brutal. They should be relaxing and lying in the sun, where they are now," Sereda said.
As for the pre-summit beautification projects, "they're perfectly comprehensible," the doctor said. "We have a folk saying in Russian: 'We're not going to bring the quarrel out of the cottage.' Of course we're not going to bring all our trash out and spread it around with the world's leaders in town."
On the contrary. Russia has spent some 10.7 billion rubles ($400 million) on preparations for the summit, including 5 billion rubles ($185 million) on city infrastructure, according to Sergei Vzyalov, head of the summit's secretariat, Interfax reported Thursday.
Back in the city center on Sennaya Ploshchad, a sun-splashed plaza at the foot of Moskovsky Prospekt, there was little a head of state could have found fault with.
A bearded, sunburned man was making his way around the square collecting the few discarded beer cans and bottles in sight. Sergei Volodin may not have been quite the ambassador the city would have chosen for its foreign guests, though.
"This is the way I make a living," said Volodin, 56, pointing to the plastic bag full of beer cans that he had set down to light a cigarette.
"I was a typesetter for 25 years before I lost the job because of my eyes and because of this," he said, flicking his middle finger against the side of his throat, the national symbol for drunkenness.
Volodin said it was impossible not to notice that the city center had been spruced up, or the swells of extra police, or the way the police were being tougher than usual.
"I still have a place to live, though I'm behind thousands of rubles on the rent and God knows how I'm going to pay," Volodin said. "I know plenty of homeless people who come around here. I haven't heard anything about them being picked up and sent out of the city."
"I may be one of them soon, though," he said. "You never know what's coming next."
Andrei Raikov, a member of the opposition National Bolshevik Party, seemed to have people like Volodin in mind when he warned of the downside that came with the summit.
"Sure, they've been repairing facades and repainting buildings. But no one asked to have this done," the 29-year-old Raikov said. "They show a few people on TV saying, 'Oh, it's wonderful, they've fixed everything.' And there may be some pluses. But with all the extra police on the streets, I have a feeling it's the simple people who are suffering most."
"Agents from law enforcement agencies have been coming around our members' houses and threatening them not to take part in opposition rallies," Raikov said. "They've been trying to get them to sign documents saying they won't take part, and even to leave town for the weekend. Of course, our guys haven't signed."
"I don't think the summit is bringing Russia any concrete good," Raikov concluded.
Finishing his cigarette on a bench in Sennaya Ploshchad, Volodin said the same.
"Maybe it'll bring us a little more prestige," he said.
Sereda was more optimistic, though he said it was inevitable the G8 heads of state would leave Monday with a superficial view of Russia.
"What do you think?" he said, smiling. "Is it possible in three days to learn about a country where the sun rises on one side of it while it's setting on the other?"
News source: themoscowtimes.com


Print this news
---
City news archive for 14 July' 2006.
City news archive for July' 2006.
City news archive for 2006 year.