City news
Union Leader Takes on Ford, Brazilian-Style
07.21.2006 13:16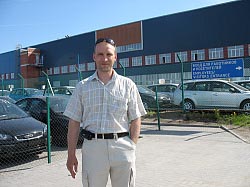 VSEVOLOZHSK, Leningrad Region -- Since he came back from Brazil last August, Alexei Etmanov has been a man in a hurry.
In one month he recruited 1,000 workers for his small union at the Ford factory near St. Petersburg, and half a year later they won a 17 percent pay increase. Now he is setting up an independent national autoworkers' union.
The autoworkers' newfound confidence could be an extra headache for foreign carmakers looking to cash in on the country's booming car market. While carmakers have faced problems with local business partners and in finding good-quality, locally produced parts, they have been attracted to Russia by low labor costs and the virtual absence of effective labor unions.
After Etmanov and a colleague traveled to a conference organized by unionized Ford workers in Brazil, he came back with "a heightened sense of social justice," Etmanov, an energetic 33-year-old welder who exudes an easy confidence, said in a recent interview.
There he learned that the Brazilian workers not only made better money than Ford's Russian employees did, but they also cared for the poor and disadvantaged in the wider community.
"As a trade union, what social activities do you do?" a Brazilian union member asked Etmanov, he recalled.
"We celebrate holidays together and buy gifts for our members' families," Etmanov told him, an answer that puzzled his Brazilian counterparts.
"Don't you have an orphanage nearby?" the Brazilian union member asked him.
After Etmanov returned home, he was elected the union's president, and the first thing he did was to get the union to spend 40,000 rubles ($1,500) on winter clothes for children at a local orphanage, he said.
Compared with Ford's Russian workers, who earned 10,000 to 17,000 rubles ($350 to $600) per month, their Brazilian counterparts earned $560 to $910 per month, Etmanov said.
Under his leadership, the union demanded a pay increase of 30 percent, and by late September membership grew from just over 100 to more than 1,100 of the factory's 1,800 workers.
After a series of work-to-rule actions, the workers earlier this year won wage hikes from 14 percent to 17.5 percent, among other concessions.
The union is still fighting for better conditions; during this summer's heat wave, it negotiated extra paid breaks for the workers, Etmanov said.
For now, Ford appears to be taking the union's more assertive approach in stride.
"This is the first trade union at a Western company that has been so active," said Yekaterina Kulinenko, a spokeswoman for Ford in Moscow.
The company is willing to negotiate a labor contract with the union at the factory, Kulinenko said by e-mail, without elaborating.
Ford declined a request by a reporter to visit the factory, located a short ride from Vsevolozhsk, a small town awash with greenery that sports Finnish-built houses here and there.
After tensions at the factory flared a year ago, the company appointed Etmanov as an acting supervisor, a move some of his colleagues saw as an attempt to buy him off, he said.
With a monthly paycheck of about 30,000 rubles ($1,100), Etmanov is better off than many, but said he was fighting for the idea that "Russians are no worse than Brazilians or Americans."
Etmanov insisted the wage increase had not changed his outlook, although he said "there are things we respect" the factory's current director, Theo Streit, for.
The union is now putting together a labor contract, which it hopes will spell out the workers' rights and conditions as well as ban the hiring of casual labor.
"The Labor Code is our bedtime reading" now, Etmanov said as he hooked his laptop up to the Internet through his mobile phone at a cafe in central St. Petersburg.
All has not been smooth sailing for Etmanov and his colleagues, however.
In response to a go-slow this March, Ford hired about 200 temporary workers -- a move Etmanov said made his members fear for their jobs -- and fired four union activists. Another 40 members left the union, Etmanov said.
Local authorities have also made their displeasure felt, with one St. Petersburg vice governor calling Etmanov and his activists "trade union racketeers," Etmanov recalled with a smile.
But Paul Nieuwenhuis, assistant director at the Center for Automotive Industry Research at Cardiff Business School, in Wales, said foreign carmakers in Russia would just have to deal with the new union militancy, as the country was too important a market to pass up.
Although U.S. companies "hate anything that smells of communism," they will draw on their experience with strong trade unions back home, Nieuwenhuis said.
Last year, General Motors announced plans to close 12 factories worldwide, while Ford said it planned to close at least 10 over the next few years.
Over the course of the last 10 months, Etmanov's union has become a beacon for labor activists at other foreign-managed factories in and around St. Petersburg -- and for autoworkers elsewhere in Russia.
Now Etmanov plans to take his 1,000 members into a national autoworkers' union, which will see the Ford workers team up with an independent union at the AvtoVAZ factory in Tolyatti and a group of workers from the Caterpillar factory in St. Petersburg, as well as workers from the now-defunct Moskvich factory.
On July 14, the day before President Vladimir Putin played host to the leaders of the Group of Eight nations in St. Petersburg, Etmanov and the leader of the independent Edinstvo, or Unity, union at AvtoVAZ, Pyotr Zolotaryov, were elected as co-chairmen of the fledgling union.
Etmanov and Zolotaryov hope the Moskvich workers will help bring workers from Renault's Avtoframos factory, located in the old Moskvich plant in southeast Moscow, and workers from the GM-AvtoVAZ joint venture into the new union.
Unlike most of the country's highly centralized labor unions, the new autoworkers' union will be "horizontally-structured," Zolotaryov said by telephone from Tolyatti.
In 2002, Ford became the first foreign carmaker to set up an assembly plant in the country. Others followed, and General Motors, Toyota and Nissan have all announced plans for factories in St. Petersburg.
Compared to many European countries, where unions are generally independent of the management, foreign companies have so far found labor unions not much of an obstacle in Russia. Laws make going on strike difficult and many workers are apathetic toward the idea of unions.
"For 70 years, people couldn't organize on their own," said Canadian socialist David Mandel, who teaches political science at the University of Quebec, Montrea, and has been visiting Russia and other former Soviet republics to help workers learn more about their rights.
The shock therapy of the 1990s undercut the movement toward a stronger civil society, and the government is not interested in independent organizations, Mandel said. "My feeling is the Federation of Independent Trade Unions exists to prevent a real trade union movement from emerging," he said, referring to the pro-government successor to the Soviet-era union federation.
In January, workers at the Ford and Caterpillar factories left the pro-government Federation of Independent Trade Unions to join a more radical umbrella group of unions called SotsProf.
The Ford workers are one of the groups that Mandel has met with on his visits.
The situation at the Ford factory is "marginal, unfortunately," Mandel said. "The labor movement is weak, almost nonexistent."
Union activists from other companies around St. Petersburg say the Ford workers' example has inspired them.
"He helped break through an information vacuum," said Andrei Semushin, a union leader at the Caterpillar factory in the nearby town of Tosno. Semushin and Etmanov were among a handful of Russian activists who participated in a labor movement conference in Detroit, Michigan in May.
Valery Sokolov, leader of an independent union at the Heineken brewery in St. Petersburg, said his workers consulted with the Ford activists when they set up their own union in January. That union now has about 200 members out of 1,000 employees at the brewery. More are thinking of joining after the company raised the unionized workers' wages by 20 percent, to about 20,000 rubles ($750), Sokolov said.
And workers from the Ariston factory, located next to Ford's, have recently asked for advice, Etmanov said.
Etmanov also has plans to recruit autoworkers at new foreign-run factories, such as those planned by Toyota and GM in St. Petersburg and the one planned by Volkswagen in Kaluga, southwest of Moscow.
"It had to happen sooner or later," said Natalya Kudryavtseva, executive director for the St. Petersburg International Association, a business lobby comprising some 120 companies operating in northwest Russia, of the upsurge in union activity.
"People are starting to value themselves."
News source: moscowtimes.ru


Print this news
---
City news archive for 21 July' 2006.
City news archive for July' 2006.
City news archive for 2006 year.