City news
New Chinatowns for Moscow and St. Petersburg
08.16.2006 14:10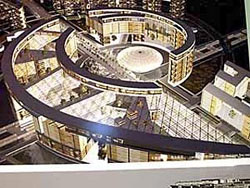 Chinese investors are planning to build a huge new condo complex with an international trade center and underwater tunnel in St Petersburg; as well as a new global trade center in downtown Moscow. This month the final list of investors is being finalized for the construction of the "Baltic Diamond" complex in St. Petersburg.
The complex will consist of ten million square feet of condos and four million square feet of stores. Locals are already calling this neighborhood the new "China-town". The total amount of Chinese investment into the "Baltic Diamond" is expected to top $1.5 billion.
Another project that interests Chinese investors is the construction of a major toll tunnel under the Neva River. The tunnel will connect two parts of the city. The tunnel will cost at least another billion US dollars. Both projects are the fruit of a St. Petersburg city trade delegation trip to Shanghai. Another project, which will take place in Moscow, was negotiated during Putin's latest visit to China. The Chinese are planning to build two office buildings in downtown Moscow. The buildings will be 32 and 50 stories each with two million total square feet. The complex will be surrounded by Chinese gardens with a shopping mall and small entertainment park. The estimated cost for this project is $300 million. These buildings will be mostly occupied by Chinese businessmen.
All of this recent activity is based on the increasing flow of trade between the two countries. This year $2.15 billion worth of products were shipped from China to Russia - this is twice as much as of the last year's official statistics. The total amount of trade between the two countries is projected to reach 60-80 billion dollars by 2010.
On August 1st, a Chinese trade terminal was opened for business at the Shermetyevo-1 airport in Moscow. The terminal is used for storing products shipped from China and has 5,000 square feet of office space for Chinese companies managing the goods.
The Chinese are certainly not the only nation investing in Russia. The first half of 2006 showed $23.41 billion foreign direct investment (FDI) into Russia; this is 41.9% more than the same period of 2005. $499 million of this amount was directed into portfolio investments. Total foreign investment in Russia look like this: 27.5% - direct investments, 2.1% - portfolio investments, and 70.4% - "other investments".
These announced Chinese deals come only a few weeks after the blow-out sale of Rosneft's IPO, in which Chinese state companies were reportedly disappointed with only being able to buy $500 million shares in the Russian oil giant. Meanwhile, state-owned energy behemoth Gazprom has increased its profits by 3,000% in the last five years, increasing its value from $15 to $225 billion. Whether the political climate in Russia is bad or good these days, this avalanche of money speaks for itself, and strongly contradicts the pessimism of many highly-respected American media outlets reporting about the Russian economy.
Today, with the majority of the large companies consolidated and secured under the Kremlin's "roof", foreign investors don't fear another power struggle between the state and the oligarchs. Instead, they see high potential and security for long-term investments in Russia, and the areas most attractive for investing now are real estate and natural resources. This transition did not come without a price (just ask Mikhail Khodorkovsky), but if the Chinese are bullish on Russia, perhaps American investors should take note.
News source: russiablog.org


Print this news
---
City news archive for 16 August' 2006.
City news archive for August' 2006.
City news archive for 2006 year.