City news
Property Battle Rages Over St. Petersburg's Historic Center
09.06.2006 13:05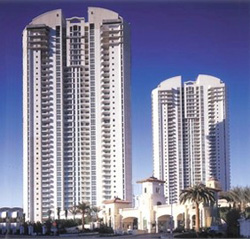 Seven years of Russian economic growth has more than quadrupled property values to an average of $1,800 a square meter in St. Petersburg, the czarist-era capital, says Itaka, a local real-estate firm.
The boom has inspired developers to restore gritty and dilapidated historical properties to their former grandeur, yet preservationists say property developers are flaunting laws and altering the historical center.
While there was little new construction in the center after postwar rebuilding in the late 1940s, the past 18 months have seen the first glass-and-concrete, post-modernist buildings rise. Developers have recently begun demolishing czarist-era buildings such as the barracks of the Preobrazhensky Regiment.
In 2004-05, a local developer, Corporation C, tore down a 19th-century building at 3 Kazanskaya Street, and put up a sleek, four-story, glass-and-concrete structure to house a luxury department story, Vanity Opera. Prominent cultural figures and preservationists, such as Hermitage Museum Director Mikhail Piotrovsky, say that it clashes with the surrounding pre-1917 buildings.
Preservationists' worst nightmare, however, could materialize next year if OAO Gazprom, the natural-gas company, proceeds with a 300-meter-high office tower across the river from the historical center. To sweeten the deal for a politically powerful investor, city hall has indicated it is willing to waive zoning laws restricting height to 70 meters.
I'm not against new construction and architectural styles, but just don't do it in or near the historical center,'' said Alexander Margolis, head of the St. Petersburg Historical Preservation Foundation. ``City hall makes too many concessions to developers, and if this continues, in 15 years the city will lose the architectural harmony that makes it one of the most beautiful cities in the world.''
Though St. Petersburg, founded by Peter the Great in 1703, is one of Europe's youngest cities, it has more than 7,000 historically listed buildings. In 1991, UNESCO declared the entire city center a World Heritage Site. The Russian state, however, is only able to maintain a fraction of these buildings and many are in danger of ruin.
Beyond a few dozen high-profile palaces and churches, hundreds of other buildings garner little attention. Some developers want these listed structures to be sold. With the city unable to pay for upkeep, developers say that only the private sector can save these buildings from certain destruction.
Modern Needs
``It's necessary to find a balance between the preservation of historical structures and the needs of modern life,'' said Sean Henry, head of HPH, a U.K. real-estate company that has restored 25 historical properties in St. Petersburg's center. ``In the end, a city is something that is alive and which has to grow.''
The most ambitious recent project is New Holland, a 7.6- hectare island built by Peter the Great in the early 18th century that until last year served as a navy depot. U.K. architect Norman Foster and ST Novaya Gollandiya, a company owned by Moscow real-estate magnate Shalva Chigirinsky, began work on the site last month.
The $320 million to $400 million project will convert dilapidated, red-brick navy storehouses into a seven-level commercial and cultural hub, with about 180,000 square meters of space that will include three luxury hotels with over 500 rooms, according to Chigirinsky.
`Historical Identity'
``Our main goal is to preserve the historical identity of New Holland, while creating a viable business project,'' he said, sitting in his downtown Moscow office, adding that the renovated complex will open no later than June 2010.
New Holland's crown jewel will be a covered outdoor amphitheater seating up to 3,000 people. The stage will rise out of the water in the center of an existing pond. Heated seats will allow the amphitheater to work year round, with concerts in warm months and skating events in winter.
``New Holland has been closed, neglected and crumbling for years, and it desperately needs to be developed and opened to the public,'' said Yulya Demidenko, deputy director of the Museum of the History of St. Petersburg. ``Foster's project strikes me as the perfect balance between preserving history and the demands of modernity.''
Other projects have aroused intense debate and resistance. Three years after the Russian Culture Ministry chose French architect Dominique Perrault to build the new stage of the Mariinsky Opera and Theater, work has not progressed beyond the demolition of a Stalinist-era landmark building and a giant hole in the ground.
Mariinsky Quagmire
Perrault's design calls for a massive black marble structure to be covered by an incongruent, translucent golden glass case. The project's opponents, who say it's too large and will destroy the 19th-century look of the neighborhood, have managed to delay construction, embarrassing the theater.
``We're still working hard with the architect,'' said Mariinsky Director Valery Gergiev after a June 22 press conference. ``The original design was too ambitious, and too big. I don't want a monstrous theater, and prefer something that won't dwarf the original Mariinsky.''
Some developers have pushed forward with equally radical projects. In 2005, Vozrozhdeniye Sankt Peterburga (St. Petersburg Renaissance) began work on Paradny Kvartal ( http://www.paradny.ru/ ), in the posh Tavrichesky Garden district.
Demolitions
To make way for Paradny, billed as a luxury residential and office project, at the end of 2005 Vozrozhdeniye destroyed nine buildings from the 18th and early 19th centuries that constituted the military base of the Preobrazhensky Regiment, the elite personal guards of the czars. Only three historical buildings were left.
Vozrozhdeniye is part of LSR Group, headed by Andrei Molchanov, the son of city vice-governor, Yuri Molchanov, one of whose responsibilities is real-estate development.
According to the St. Petersburg Historical Preservation Foundation, in 2001 city hall listed all 12 Preobrazhensky buildings as historically protected. In August 2004, shortly after Valentina Matvienko became governor and Yuri Molchanov became her vice governor, they were removed from that list.
``This was a terrible crime because these buildings should have been restored, and not torn down,'' said Margolis. ``What happened with Paradny Kvartal is a dangerous precedent that can lead to the destruction of the historical center as we know it.''
Building Copies
Neither Vice-Governor Molchanov nor the city hall Committee for the Preservation of Historical Monuments (KGIOP) responded to questions sent to their offices. Vozrozhdeniye said it will build copies of the destroyed buildings, and will use historical details in the new buildings.
``The facades of these buildings will correspond with the 18th-century buildings that were once on this spot, and which once housed officers' quarters,'' said Vozrozhdeniye in a statement. ``The insides of these buildings will meet the high standards of Class A office space.''
Such attitudes toward Russia's history infuriate preservationists, who say there is little they can do because of the power of the Russian government and its corporate allies.
``The people who run our city are above the law,'' said Margolis. ``In the 1990s, St. Petersburg was crumbling and threatened by a lack of investment, but now it's threatened by too much money in the hands of too few people who have unlimited power to do whatever they want.''
News source: bloomberg.com


Print this news
---
City news archive for 06 September' 2006.
City news archive for September' 2006.
City news archive for 2006 year.