City news
Remains of Czarina Maria Feodorovna arrive in Russia
09.27.2006 15:11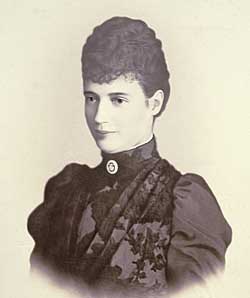 The remains of Czarina Maria Feodorovna, one of Russia's most popular royals, were returned on Tuesday to her adopted homeland from Denmark, the country where she was born and where she died in 1928.
Born the Danish Princess Dagmar, Maria Feodorovna was the mother of Russia's last czar, Nicholas II, who was executed by the Bolsheviks in 1918. She had fled to the port of Crimea where she was evacuated on a British warship sent by her nephew, Britain's King George V. She regarded the last decade of her life as exile and wished to be buried in Russia, witnesses said. But she left no written instructions.
Since the fall of the Soviet Union, the Romanov family had been working for the return of the czarina's remains. Although her husband, Czar Alexander III, was a firm autocrat and resistant to reforms amid rising discontent, his wife was popular for her good nature.
The czarina's body was sent to Russia last week on a Danish naval ship after a solemn ceremony. The coffin arrived Tuesday at Peterhof, the czarist palace complex on the shore of the Gulf of Finland outside St. Petersburg. It is to be interred Thursday in the cathedral of the Peter and Paul Fortress in St. Petersburg, where other members of the Romanov dynasty including her son Nicholas II are buried.
A Russian warship fired a 31-gun salute as the ship bearing Maria Feodorovna's coffin passed the Kronstadt naval base on an island off St. Petersburg.
It was taken to a chapel in the Peterhof complex for a pre-burial service.
The body is to be buried following a service Thursday by Russian Orthodox Patriarch Alexy II in St. Isaac's Cathedral, which was the principal church of the Romanov family.
The return of the czarina's remains was seen as a significant step in restoring Russians' appreciation of their country's complicated and tormented history.
"I am convinced that the fulfillment of the will of the mother of the last Russian emperor Nicholas II has great meaning for our country; it will help our citizens feel anew the richness of Russian history and culture," Russian Orthodox Church spokesman Father Vsevolod Chaplin was quoted as saying by the ITAR-Tass news agency.
Maria Feodorovna initially was betrothed to Czar Alexander II's son Grand Duke Nicholas Alexandrovich, but he died when the princess was 17. In his will, he asked that she marry his brother, which she did the following year, in 1866.
Her husband became czar in 1881 after the moderately reform-minded Alexander II was assassinated; Alexander III died in 1894.
News source: iht.com


Print this news
---
City news archive for 27 September' 2006.
City news archive for September' 2006.
City news archive for 2006 year.