City news
St Petersburg inventor seeks passenger for homemade submarine
12.25.2006 14:33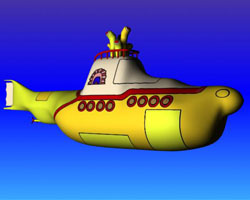 After nearly 20 years in the planning, a Russian inventor's ambition to sail to sea in his homemade submarine has hit a snag. Not surprisingly, perhaps, Mikhail Puchkov can't find anyone to join him.
The eccentric factory worker has devoted all his spare time to assembling the five-metre, glass-fibre submarine in a heated shed at the glass plant where he works in St Petersburg.
"People thought I was mad; many still think I'm mad," said Puchkov, who began building the craft in secret as a teenager on the top floor of his parents' dacha, the wooden house where they spent each summer. So far, the farthest he has journeyed in the underwater contraption was a 32km jaunt up the Neva river, to Kronstadt, on the Gulf of Finland.
The leg-aching trip was achieved entirely on pedal power, and was so exhausting that the 43-year-old enthusiast decided to fit the vessel with a small engine.
He now plans to sail out into the Baltic sea, but before he can boldly go where none have gone before - at least in a DIY submarine - he needs to find a willing co-pilot and a new diesel engine.
Puchkov has invested all his free time and a large portion of his wages in the craft. He once even took it on holiday with him, loading it on to a trailer behind the family car.
As a child, he dreamt of flying but, fearing that the Soviet authorities might suspect him of planning to defect if he built his own plane, he opted instead for the life of a submariner.
He collected the parts he needed for the craft through friends who worked at local factories. His submarine has no navigational equipment other than a small periscope and lights on the bow and stern, but its inventor insists it is quite safe. "It's more dangerous on the roads than in submarines," he said.
Now he is attempting to find paying passengers for future underwater adventures, in the hope that this will help him to raise the cash needed to buy the new engine.
It may prove more difficult than he expects. Sitting inside the submarine is akin to what it might be like to be in a coffin; when asked the main attraction of underwater life, he did nothing to dispel that impression. It was the silence, he said, adding, without any sense of irony: "It's as quiet as the grave."
News source: www.gulfnews.com


Print this news
---
City news archive for 25 December' 2006.
City news archive for December' 2006.
City news archive for 2006 year.