City news
Technopark to rise near St. Petersburg airport
01.18.2007 14:41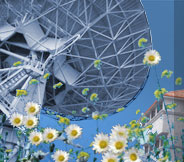 A Finnish company Technopolis plans to have built its first technopark in Russia close to St. Petersburg airport Pulkovo by the end of 2008. Deadlines of other St. Petersburg projects are not certain yet. Originally, the Finnish company, which controls a chain of technoparks in Finland, intended to occupy the special economic zone Neudorf on the outskirts of St. Petersburg. However, Russian laws do not permit it to obtain the status of its resident. Technopolis then decided to partner with St. Petersburg State University of Telecommunications (GUT), on the basis of which the Ministry for Information Technologies and Communications plans to conduct its pilot project for building technoparks in several Russian cities.
Technopolis signed a protocol of intent with GUT and held an official ceremony of laying the first stone with participation of St. Petersburg governor Valentina Matviyenko and the minister for information technologies and communications Leonid Reiman. But half a year passed and the stone was still lying alone near the university. In October, 2006, Technopolis announced that it had signed an agreement for purchasing a 4.6 hectare site near Pulkovo airport for technopark construction.
Technopolis executives tried to avoid mentioning either Neudorf or GUT during their press tour over Finnish technoparks on Nov., 23rd. Yet, faced with insistent questions, Technopolis vice president Kari Mikkonen, who is responsible for business development in Russia, said that he was optimistic about both projects and confident of their accomplishment. He denied any suggestion that the idea of construction in Pulkovo was caused by a necessity to cancel projects at other sites.
Technopolis initially planned building several technoparks, Mikkonen said, and hence, it is theoretically possible that all three St. Petersburg projects will be accomplished. Nevertheless, the technopark in Pulkovo is the company's apparent priority. Construction of a chain of technoparks as part of IT sector government support is being delayed as prospects of the GUT pilot project are becoming more obscure.
Nevertheless, the state program will be fulfilled, Viktor Naumov, intellectual property and information technologies legal protection partner in the CIS region at Beiten Burkhardt law firm, believes. 'Unfortunately, they've only recently started systematic research into organizational, economic, social and legal relations' he added. 'As a result, they will take time to get a general idea of what can be done on the basis of the University of Telecommunications. It's very hard to develop business at state expense without this idea because that would require a balance of interests and right proportions of participation in management, property and planned investments.'
As Technopolis is conducting the Pulkovo project on its own, it can already speak of the deadline for the first stage. It plans to have constructed buildings of total area up to 20,000 square meters for international development centers and Finish companies by the end of 2008. Some future residents already operate in Russia but would like to move to a place more suitable for high tech companies. Overall, Technopolis is going to build up to 80,000 square meters of space.
The model for the Pulkovo technopark is Vantaa technopark, which is situated not far from the Helsinki airport. This one and other classical technoparks differ from common business centers mainly by a wider range of services rendered 'from one window'. Many additional specific services (up to 50) create the best conditions for emergence, development and day-to-day operation of high tech companies.
For example, technoparks can lease prototype production equipment and research laboratories. This service may attract both large and very small companies. Some Russian firms with subsidiaries in Finnish technoparks already feel the difference. It is an absolutely new level, Arkadiy Khotin, president of St. Petersburg software company Arcadia, said. A young company gets continuous assistance, access to world-class trainings and can establish relations with new partners for very little money in a Finnish technopark, he said. There are group events where you can get to know many colleagues and partners almost every week. The only drawback for Russian firms is that the working language of some Technopolis events is Finnish.
Khotin does not think that there is anything too difficult about opening a technopark in Russia and is ready to share his knowledge on this matter. The problem is the lack of demand on this knowledge. The demand on office space is so big in St. Petersburg that it is possible to make very high profits without pains of servicing high tech companies.
Technopolis's strong intention to build a technopark in Pulkovo with a necessary incubator for Russian start-ups is proved by construction of a technology innovation center together with a Finnish company FINPRO. It is to be opened in one of business centers located on Pulkovskoye highway in the end of 2006. A floor of 600 square meters has been allocated to the center. If needed, Technolopis will lease additional area.
The center's main task is, Mikkonen said, to promote Finnish companies in the Russian market. It is exactly FINPRO's specialization. However, the companies are also going to open a 'Technolopolis Academy', which will prepare staff for Russian technoparks, under the innovation center.
Technopolis executives realized the need of such staff while they were considering and preparing projects for construction of technoparks in St. Petersburg. 'Only local specialists and managers will work in Pulkovo. They'll be able to localize services according to peculiarities of the Russian market. I'll be the only foreigner there', Mikkonen promised.
After the end of the first stage of the Pulkovo project, the technology innovation center will become its constituent. Technopolis is now waiting for an updated version of the general plan of area development. This process is to finish in January, 2008. The Finns are then going to buy the land (it costs 7.4 million euro) and to start designing the technopark.
News source: ospint.com


Print this news
---
City news archive for 18 January' 2007.
City news archive for January' 2007.
City news archive for 2007 year.