City news
Top dog
01.19.2007 11:44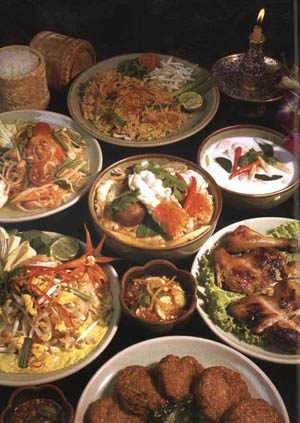 By Shura Collinson
Special to The St. Petersburg Times
Thai food aficionados around the city may be excited to learn about the opening of a new Thai restaurant on Ulitsa Rubinshteina, considering the dearth of Thai food in St. Petersburg. They will not be disappointed by a visit — on the contrary, Mops, which means "pug-dog" in Russian, offers first-class service, superb food and very agreeable surroundings.
Our waitress was helpful and friendly from the moment we entered, seating us straight away and taking away our coats to the cloakroom herself, right up to dealing with our awkward multiple check requirements at the end of the meal.
She willingly moved us and our starters, which had just arrived, to a larger table with a throne-like sofa when we were joined by another guest, and throughout the evening remained attentive, cheerful and eager to recommend dishes.
Having requested the separate wine menu and made our choice, we relaxed over a bottle of exceptional Chablis, chilled to perfection, at 1,350 rubles ($50) and worth every ruble. While waiting for our food to arrive, we took in the surroundings. Mops has three rooms: the first is a black and white tiled, which looks very trendy but is rather cold and unappealing. It leads onto an equally trendy bar, but by far the best place to be seated is the room to the right of the entrance, the biggest and most luxurious of them all. The vaulted cream ceiling is painted with polka dots while the walls are curiously padded and decorated with a pattern of green ferns on a black background.
The tables and chairs are also black, but any effect of gloom is counterbalanced by the dazzling cream floor. Unlike so many restaurants with a modern fashionable design which end up appearing simply cold and characterless, the overall effect in Mops is of an airy, comfortable spot created by a few cushions depicting elephants, an eponymous pug-dog ornament and some rather kitsch tiger-head lamps — not entirely in keeping with the overall style, but a welcome addition nonetheless.
For such opulent surroundings however, the food is very reasonably priced, with only one dish (an entire duck) exceeding 650 rubles ($24.50). For starters we chose soup with prawn balls, glass noodles and shiitake mushrooms (180 rubles, $7) and fresh spring rolls with vegetables at 190 rubles ($7.15). The spring rolls were presented rather like sushi rolls with two accompanying sauces and were indeed very fresh. The soup was also a success and both dishes were beautifully presented on unusual square white crockery.
Just to confirm that all the dishes on the menu are indeed freshly prepared, our ever-helpful waitress was happy to ask the chef to substitute the chicken in a green curry (280 rubles, $10.50) for various vegetables on behalf of the vegetarian in our party.
Once again, the presentation was flawless and included some remarkable two-tone rice. More importantly, it was a sublime, creamy wonder and as spicy as promised. It came as no surprise to learn that the chefs are native Thais.
My guest's red curry barbeque duck (370 rubles, $14) had quite a different taste and was somewhat sweeter, featuring a unique combination of strawberries, pineapple and grapes alongside the duck, a recipe few of us would think to try at home, but surprisingly delectable.
We barely had room for the caramelized fresh fruit, a sweet and sticky medley of apple, pineapple and pear, which we shared for 150 rubles ($5.60) and made a nice ending to the meal.
However, no visit to Mops would be complete for any guest without a trip to the sumptuous toilets. Discreetly hidden behind a panelled door in the bar, dim lighting, red wallpaper and an eerily soothing children's lullaby playing in the background lend them a soft, dreamlike quality, whilst the washbasin suggests that, as with the rest of the restaurant's design, no expense has been spared. A nice touch is that instead of paper towels, there is instead a large basket of rolled-up red face cloths for guests to dry their hands and another basket below for used cloths. It's enough to make any diner feel like a pampered pooch.
News source: times.spb.ru


Print this news
---
City news archive for 19 January' 2007.
City news archive for January' 2007.
City news archive for 2007 year.