City news
Czech president to visit Russia in April
03.14.2007 15:04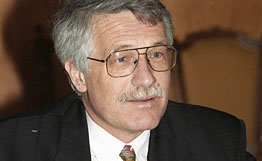 Czech President Vaclav Klaus is planning to pay a return visit to Russia in April, a Czech government official said Monday.
Russian President Vladimir Putin was the first Russian leader to pay an official visit to the Czech Republic in 13 years when he stopped in Prague in March 2006 on the second leg of his east European tour.
The official said that the upcoming visit by the Czech leader will focus on expanding bilateral economic and technical cooperation, including mutual investment.
Bilateral trade reached $5.5 billion and Czech exports to Russia exceeded $1 billion in 2006, according to statistics.
Kremlin aide Sergei Prikhodko said last year that relations between Russia and the Czech Republic have recently been on the rise, which the Kremlin sees as the personal achievement of Vaclav Klaus, who it qualifies as "a brilliant economist deserving a Nobel Prize" for his successful handling of Czech economic reforms.
"Although he is a staunch right-winger, he is still very respectful of Russia," Prikhodko said at the time.
One of the key discussion issues during the upcoming visit, however, could be proposed plans to deploy elements of a U.S. missile shield in Central Europe.
The United States recently announced plans to build a radar installation in the Czech Republic and a missile base in Poland in the next five years. The U.S. insists that the European missile shield is designed to counter possible attacks from "rogue states," including Iran and North Korea.
Moscow has strongly objected to the proposed deployment of the shield in Central Europe as a national security threat and a destabilizing factor for Europe. But the Czech Republic, a former Central European Soviet ally and now member of the European Union and NATO, reaffirmed in February its willingness to allow the U.S. to place elements of its missile shield on its territory.
A top Russian military official said Tuesday he hoped East European NATO countries would refuse to deploy U.S. air defense missiles on their territory.
"I think everyone understands that they should not do it," Air Force Commander Vladimir Mikhailov said during a meeting with foreign Air Force attaches.
Vaclav Klaus was elected president on February 28, 2003 and has a high domestic popularity rating.
News source: en.rian.ru


Print this news
---
City news archive for 14 March' 2007.
City news archive for March' 2007.
City news archive for 2007 year.