City news
Matviyenko Reaches Out For State Shipbuilding HQ
03.14.2007 14:36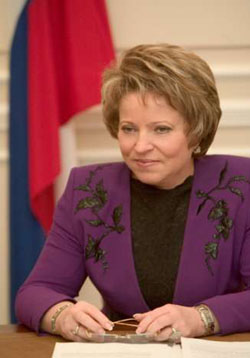 By Yekaterina Dranitsyna
Staff Writer
The State's shipbuilding assets will be merged into one corporation and city governor Valentina Matviyenko is already looking to locate the headquarters of the new company in St. Petersburg.
The decision to create a financial holding — Unified Shipbuilding Corporation — came late Friday after a ministerial meeting with president Vladimir Putin.
"Unified Shipbuilding Corporation will consolidate the state's assets in the shipbuilding industry," Interfax cited vice primeminister Sergei Ivanov as saying Friday.
All assets will be merged, including 100 percent state-owned companies as well as smaller stakes that the Russian Federation holds in private firms, Ivanov said. The corporation will also include state projection and construction bureaus.
"The decision has been made to create three regional sub holdings that will be subordinate to the parent company. The sub holdings will manage existing shipbuilding facilities. The Northern sub holding will comprise enterprises based in St. Petersburg and the Kaliningrad Oblast," Interfax quoted Ivanov as saying.
Ivanov said that the state's program for the development of the armed forces would provide enough state orders to keep the facilities active for a long period of time. As a probable source of problems, Ivanov indicated the "deficit of technical equipment and facilities for the production of civil ships."
Russia plans to explore the sea shelf and needs mass production of sea platforms for extraction and of special ships for hydrocarbon transportation. The minister noted that despite consolidation the company "is interested in healthy competition and cooperation with private firms." The Ministry for Industrial Production and Energy has already announced a tender for the construction of special ships for private companies.
"The main task is to make the shipbuilding industry effective in a situation of global competition," Ivanov said. He saw state funding of the industry as a necessary condition for achieving this goal. "The president gave an order to create a federal program for the development of civil shipbuilding," Ivanov said.
Speaking to journalists on Saturday Valentina Matviyenko said that she will ask that the Unified Shipbuilding Corporation be registered in St. Petersburg.
"This morning I talked to Sergei Ivanov and also asked the president to register this state holding in St. Petersburg. Ivanov showed understanding and I hope it will be decided in our favor," Interfax cited Matviyenko as saying.
"It's a logical step and we'll strive to register the Unified Shipbuilding Corporation in St. Petersburg because the city houses a large number of shipbuilding companies and scientific institutes," she said.
"The restructuring assumes state financing for the modernization of Russian shipyards and St. Petersburg enterprises could be entitled to receive federal funding," the governor said.
"Shipbuilding enterprises are scattered across Russia. They are not loaded at full capacity. To develop the industry, it's rational to unify those enterprises," said Gennady Sukhanov, analyst at Troika Dialog brokerage.
A merger will simplify control over cash flows. Investment will also become more efficient, Sukhanov said.
He observed that reforms in the shipbuilding industry have been proposed on numerous occasions. Some experts proposed creating two holdings, some spoke in favor of three holdings. "I think it would make sense to create one holding because the number of shipyards is not that big," Sukhanov noted.
He pointed out that private shipbuilding enterprises could face an "interesting" choice. "For example, Baltiysky plant and Northern Shipyards are 100 percent private companies. And they are two of the largest. The state would be interested in owning those companies, while their current shareholders could be interested in swapping their assets for a stake in the unified company," Sukhanov said.
He saw it as rational to base the headquarters in St. Petersburg considering that the city has three shipyards while shipbuilding enterprises in the Leningrad Oblast and Kaliningrad are located close by.
News source: times.spb.ru


Print this news
---
City news archive for 14 March' 2007.
City news archive for March' 2007.
City news archive for 2007 year.