City news
Public Transportation Love-Hate: Notes From Underground St. Petersburg
03.21.2007 14:52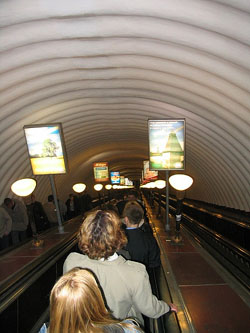 At least four different kinds of public transportation cross St. Petersburg, Russia, on a daily basis. But if you really want to experience the Russian soul, you have to take the metro - luckily, it's also the easiest to use in the city.
It is said that Peter the Great's Baltic legacy stands on the bones of the workers who tried to construct a city on this swampy piece of marshland. (Something had to hold the Hermitage up!) City planners responded by tunneling deep underneath the city to build the metro, and compensating for the corresponding darkness and dankness by giving many metro stops an individualized flair, from glass pillars to marble columns and iron grillwork.
Taking the long escalators into or out of the metro is a great way to see rank-and-file Russians -- and they're expecting you to look. While in other cities people seek anonymity by dropping their eyes or pretending to concentrate on their books or CD players, there is no Russian pastime like staring at the people on the other side of the escalator, especially during rush hour. It's a great way to see what you should be wearing in order to blend in with the crowds. And once you've emerged into the sunlight, treat yourself to a delicious huichin pastry (a Georgian treat which resembles a potato-stuffed croissant) and an armload of pirated CDs at one of the impromptu open-air markets that have sprung up outside the stations.
Feel shy about taking photographs in this former Communist town? Just be discreet; the town is much more used to tourists and their shutter-happy ways than it once was. And watch out for the bands of little kids who will materialize from nowhere when you pull the camera out and "offer" to take your picture. Suffice to say, they don't really care about getting you a good shot.
News source: jaunted.com


Print this news
---
City news archive for 21 March' 2007.
City news archive for March' 2007.
City news archive for 2007 year.