City news
Cheap 'n' Chinese
03.28.2007 16:15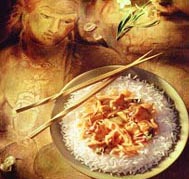 By Tobin Auber
Staff Writer
The wealth of low price Chinese restaurants in St. Petersburg is a goldmine for those in search of a vast, filling meal, but there are few that really standout. For the most part, the threadbare carpets, cheap and none-too-cheerful decor, greasy, stodgy food and dubious hygiene standards are enough to put off even the most undemanding of diners. Divny Sad ("Magic Garden") on the Petrograd Side, however, comes with at least something of a recommendation. A recent city guide published on the Internet by the local administration revealed that the restaurant is a favorite haunt of the staff of the city's premier television center located near by on Ulitsa Chapygina.
No celeb sightings on the evening we visited, but it quickly became apparent why it might be incredibly popular with Channel 5's criminally underpaid television crews — the prices here are low. Frighteningly low . Can you really get a decent-sized portion of frogs' legs for just a few hundred rubles?
The "duck's nest" at 288 rubles ($11) was another good case in point. It consisted of finely sliced potato woven and fried into a crisp basket, with a copious mound of duck filling it. In view of its size, however, the nest would be more accurately described as a sizeable aviary, and this dish alone would have been big enough to satisfy all three of us. The duck itself was light and well prepared, having been fried up with sliced peppers.
The sweet and sour chicken (168 rubles, $6.50) was an equally abundant portion. Although the sauce was generic, but the batter was refreshingly light and wonderfully crisp. And, again, this dish could easily have been shared.
The assorted meat dish, which featured seafood, beef, lamb, mutton, chicken, bamboo shoots and mushrooms, was less of a success, the flavors of all the different components being entirely lost. Nevertheless, it avoided the usual pitfall of Chinese restaurants in this price range in the city — poor quality cooking oil producing too much grease.
The rice garnishes, apart from being entirely superfluous due to the size of the dishes they accompanied, were also fairly bland. The rice with chicken (68 rubles, $2.60) and rice with seafood (88 rubles, $3.40) both came topped with an excessive dollop of sweet and sour sauce and the seafood variant came with disturbingly miniscule prawns.
Although the room isn't large, with about twenty tables, it manages to comprise three levels, one set into the floor and another on a balcony above it. The decor isn't excessive, but not tatty. The service was cheerful, although catching the waitress's eye to ask for another beer involved a long wait.
The interior and ambience are something of a mixed bag. A big flat screen on the wall was showing Chinese television, but the music system was pumping out ghetto rap. This might not be to everyone's taste, but in terms of value for money, Divny Sad is certainly a winner.
News source: times.spb.ru


Print this news
---
City news archive for 28 March' 2007.
City news archive for March' 2007.
City news archive for 2007 year.