City news
City's First IMAX Cinema To Open at KinoStar City
04.09.2007 16:53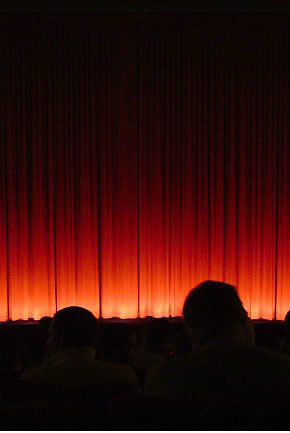 By Yekaterina Dranitsyna
Staff Writer
St. Petersburg's very first IMAX cinema will open April 26 in the KinoStar,City entertainment center.
The five-story high IMAX screen will be inaugurated with a showing of Spiderman III, the entrepreneurs and investors behind the project said Tuesday at a press conference.
KinoStar City will be located in the Piter-Raduga Mall. The concept was proposed by Rising Star Media, a company which already operates several multiplexes in Russia. A joint venture of National Amusements, Inc. and Soquel Ventures, Rising Star Media has also attracted two partners to realize the project — IMAX corporation and Coca-Cola HBC Eurasia.
The Chairman of Soquel Ventures and president of Rising Star Media Paul Bernard Heth said he had been looking for an opportunity to open a cinema in St. Petersburg for several years. This particular building has taken five years to build.
Larry O'Reilly, executive vice president for development of IMAX theaters, indicated that as well as being the world's biggest cinema screen with a state of the art sound system, the main advantage of IMAX theaters is the 3D effect that makes people "actually feel as if they are in the movie."
According to his estimations, about one billion people have enjoyed the IMAX experience. The corporation has opened 280 IMAX theaters across 40 countries, 60 percent of them outside the U.S.
"We are big believers that movies should be seen in theaters, and that they should be in IMAX theaters," O'Reilly said.
Neither Heth nor O'Reilly disclosed the total volume of investment. However, Heth said that in the U.S. one IMAX screen normally needs about $1 million in investment. The 10,000 square meter KinoStar City will have 14 large high-quality screens including one IMAX screen. "This will be the largest investment into cinema in Russia," Heth said.
Dmitry Zolin, managing partner of LCMC, estimated profitability of the center at 50 percent a year, which means that investment will pay off within a period of just two to three years.
"Given the correct concept, absolutely any multiplex in a mall would be profitable. The mall will also benefit from such a neighbor because a cinema attracts additional crowds," Zolin said.
The center will have 4,000 seats, 400 of them in IMAX halls. Besides that, the center will house 20 bowling lanes, several restaurants, six karaoke halls and multiple gambling machines. In cooperation with Coca-Cola a special "Red Zone" was created, which offers refreshments, music, karaoke and dance.
"Coca-Cola HBC Eurasia sees great potential in KinoStar City. In many countries this partnership has proved its efficiency. Combining the IMAX technologies with CCHBC efforts will surely result in a synergetic effect," said Yelena Lavina, External Affairs Manager of Coca-Cola HBC Eurasia in St. Petersburg.
Coca-Cola expects to increase the share of sales in cinemas in Russia through cooperation with industry leaders, Lavina said.
O'Reilly noted that today you should "give the audience an excuse to leave their homes and go to the theater." He claimed that IMAX increases theater attendances, providing box-office receipts of $170,000 to $200,000 per film.
In Moscow the company has two KinoStar Deluxe centers that are among the three leading moneymakers in Russia. O'Reilly claimed that for several films in particular one IMAX screen provided 35 percent of total box-office sales across Russia.
Heth promised to open another multiplex in St. Petersburg by the end of 2007 in Mega Dybenko mall, which will have 10 screens. The company is negotiating its expansion into the regions. By the end of 2008 about eight multiplexes will operate in Russia, he said.
News source: times.spb.ru


Print this news
---
City news archive for 09 April' 2007.
City news archive for April' 2007.
City news archive for 2007 year.