City news
Rock Art of Chukot Region
04.18.2007 18:17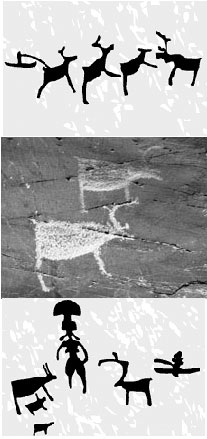 Specially for PeterburgCity.com
On the 11th of April the exhibition and presentation of Russian-Italian scientific-research project "Rock Art of Chukot region" started. It takes place in the main building of Saint-Petersburg State University, the building of 12 Colleges. Organizers are the museum of history of the University and Department of Archeology, the Faculty of History. They demonstrate vivid photos, apt illustration of the ideas. The Exhibition will last till 10th of May.
What is the Rock Art of Chukot region?
A great historic monument of the ancient culture of the Chukot region are pegtymel rock drawings — petrogliphs dating from the late Stone Age (I thousand years B.C.). They were engraved in the rocks of the right bank of river Pegtymel on a rather long Kaikuulsky steep that extends for almost 500 meters (half a mile). Altogether there are 104 silhouette paining groups on 12 rocks.
The most frequent is a typical hunting subject: a hunter, while sitting in a small boat, strikes a huge wild deer with a spear or a harpoon. An artist was depicting a real situation, the desired prey — a deer — was shown huge, fat and quite real-looking but the boat with a hunter in it were shown inadequately tiny. The hunter was just one stroke.
Some petrogliphs allow to picture various ways of deer hunting: in spring — on skies and using dogs, and in autumn — using a river boat. Many petrogliphs depict large boats with a large number of oarsmen. Their main purpose was to detain deer not allowing them to swim away down the river. But the decisive part in deer hunting was played by small brisk boats with a double paddle, kayaks — totally waterproof boats, upholstered with leather on all sides and having a special man-hole for the oarsman.
As for the scenes of hunting whales, sea-otters and some other sea animals, large boats are depicted with high sharp fronts and a large number of oarsmen. Thus, rock paintings give absolutely definite information about the earliest means of water transport used by Chukot hunters.
Among Pegtymel petrogliphs rater mysterious pictures can be singled out — dancing figures surrounded by huge mushrooms. The monstrous mushrooms are, most probably, fly-agarics and they have their own meaning. It is not uncommon to find red fly-agarics in the Arctic, they easily survive in such conditions. Fly-agarics were known as an intoxicant drug and this is proved by ethnographic data. (Interesting enough that the same man-like hallucinogenic mushrooms can also be found among Maya stone sculptures).
Usually the «fusion» of a mushroom and a man into one figure is explained by anthropomorphisation of animals or plants usually characteristic of a certain stage of development of all completely different tribes and nations. But the dancing figures of men-flyagarics could also be a good evidence of rather deep roots of shamanism in the Far North-East of Siberia. It is well known that in the primitive society intoxicated people were thought to be prophets. When he chewed on a flyagaric a man turned into a lunatic and experienced hallucinations — a state close to a shaman?s ecstasy which he usually achieves through frantic dancing and a wearisome beating of tambourine.
The art of ancient Chukot painters was filled with animation and vigilant perception as well as the highly-developed stone-working technique speak for rather high standards of culture, at least for the Stone Age period. However, the Bronze Age never began here in full. Only single bronze items appeared here from the South, but then all communication with people who had turned themselves to cattle-breeding and husbandry ceased and the Chukot region fully came back to the Stone Age. At that time the Iron Age was already beginning all over Siberia.
Since then a significant developmental lagging began in the Chukot region both in the level of productive forces and the level of productive relations.
For more information:
199034
7-9, Universitetskaya nab,
Saint-Petersburg, Russia
e-mail: office@inform.pu.ru
tel: +7-812-328-0000
Department of Information SPbSU

Print this news
---
City news archive for 18 April' 2007.
City news archive for April' 2007.
City news archive for 2007 year.