City news
The Look of Love
04.27.2007 16:48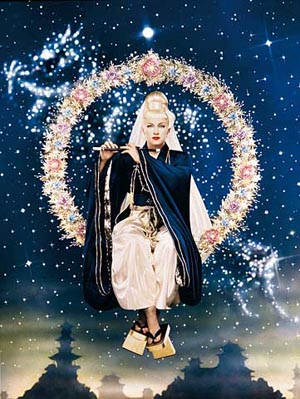 By Chris Gordon
Special to The St. Petersburg Times
When it comes to extravagant, impassioned images of saints and sinners, nothing can compare to the sugar-coated masterpieces created by French artistic duo Pierre Commoy and Gilles Blanchard.
Known the world over as Pierre et Gilles, the couple have been active since the mid-70s making photographs that have always existed on the fringes of respectability. A new exhibition that opened last week at the Marble Palace looks set to change all that, at least where the Russian public are concerned.
Organised in part to mark "The Year of Pierre et Gilles," the retrospective celebrates 30 years of the pair's working relationship and features 80 of their most famous and best-loved images — as well as a few surprises.
Known for creating idealized portraits of the people they know and love, Pierre et Gilles have fashioned an ostentatious fantasy world populated by pop-stars, celebrities and friends. Relying heavily on low-art motifs that inflate the comforts of decoration into a uniquely fake aesthetic, they have created one an instantly recognisable body of work.
Like the garish bedroom saints and starry-eyed nursery kittens found on walls throughout France that inspire them, their lavish images have come to be just as ubiquitous around the world.
Paradoxically it is this success that has kept them on the wrong side of the art world for the greater part of their career.
Long considered beyond the pale for their overtly homoerotic and flamboyant style, they have typically been dismissed as kitchen-sink provocateurs by an elite that viewed them as slightly suspect oddities to be endured. But with time has come a kind of grudging respect born not of any real change in their method — they are just as true as ever to their fantasist roots — but a growing acceptance of a "queer" sensibility by the mainstream; an acceptance due in large part to the existence of Pierre et Gilles' riotous camp sensibility.
The process they use to create their work is labor-intensive to the point of improbability for most artists working in the age of digital photography.
The voyage towards the final image begins with preparatory sketches that are then elaborated into something that functions as a working design. From the drawings they proceed to build the sets and finding props, and on to the design of lighting, costume, and makeup in collaboration with their subjects.
Once the setup has been photographed by Pierre, one print is chosen from the images made during the shoot to be meticulously painted and glazed by Gilles using conventional photo-retouching techniques.
Transforming the print into a radiant image closer to painting than photography, the resulting object fairly vibrates with the intensity of its artificiality while miraculously preserving a living likeness of the model.
Never a pair to shy away from the extreme, Pierre et Gilles images are all but embalmed in this process rendering them almost aggressive in their cloying, chocolate-box perfection.
Unaided by computers, the work revels in a handmade aesthetic that suggests a homely craft more associated with traditional notions of women's work.
This loyalty to tradition, however, doesn't stop Pierre et Gilles from acknowledging the pictorial potential of digital imagery and making it their own. In one remarkable recent instance they created a hand-painted, pixellated background for a portrait of a handsome Iraqi soldier emerging from the ground with a machine gun as both an aesthetic and political response to the war ("Iraq War" 2006).
By turns blithely ironic and deadly serious, Pierre et Gilles' treatment of taboo subjects — including Holocaust imagery and soft-core pornography — is characteristic of their inclusive attitude. With promiscuous abandon, they proclaim that there is room for just about everything in their world.
There is no sense of the perverse in Pierre et Gilles' playfully unrepressed approach. Blending the starkly chaste with the wanton, the seductive with the repulsive and high-art with kitsch gives the work the impact of the proverbial iron fist in a velvet glove. And it is this marriage of extremes that makes the work so satisfying and successful. So adroit are they at couching their concerns in a dazzling package that, like the Trojan horse, the message gets in before the viewer knows what has hit them; delivering an aesthetic punch to greater effect and in a more forceful manner precisely because of its indirectness.
Highly theatrical, the Pierre et Gilles' stock-in-trade is the shimmering glycerine tear of the Hollywood starlet, the overly crimson blood of an Italian crucifixion print, the slick reflectiveness of slightly suspect materials like plastic and patent leather, and the crystalline brilliance of fake snow strewn with plastic flowers.
Celebrities such as Catherine Deneuve, Marc Almond, Amanda Lear, Marilyn Manson, Yves Saint-Laurent and porn legend Jeff Stryker all populate the pair's cotton-candy firmament along with their muses and alter-egos, the French light-pop duo Mikado, for whom they have directed several music videos.
Unfortunately for the world of pop-music, the bother of working with entire crews and the pressure and strain that big budgets bring has led them to decline requests from the Pet Shop Boys and Elton John to create video clips for them. They have even gone so far as to turn down Michael Jackson's request for a book full of portraits because, love him as they might, they remain admirably committed to their craft-industry production values.
This admirable dedication to first principals and the pair's legendary reluctance to give interviews or explain their work hasn't kept them from becoming household names just as it has masked them from the usual cult of personality to which successful artists are usually subject.
Everyone who knows the kinky and militantly luxurious aesthetic their work displays in reproduction will be surprised by the affection with which they create their art for the gallery wall. The artists have spoken of the sensuality inherent in the process of making their pictures, from conceiving the idea, through taking the photograph, painting the surface and including the way the image is finally framed for museum presentation.
The different series Pierre et Gilles have embarked on display a consistent fascination with both beauty and horror knowing as they do how closely the two are linked in the psyche. It is from this that the power of their images to fascinate and repulse in equal measure is derived.
Created the year after the Berlin Wall fell, "Le Petit Communiste Christophe"(1990), with its reference to the committee images created by Soviet propagandists, shows a uniformed soldier with one of their trademark tears glistening seductively on its way down the perfect skin of his creamy cheek; equally readable as tears of loss or tears of joy.
Less equivocal, "Le Petit Chinois ­Tomah"(1991), in which an Asian man in a white shirt stares out aggressively at the viewer with a bloody knife in hand, can be taken as the image of a defiant China but is also a reminder that as much as they like to idealize, there is just as much violence as tenderness in their pictures.
Part of a tradition that counts art-making couples such as Gilbert and George and McDermott and McGough among their peers, the pair live and work together fusing the dual personae of a romantic couple and an artistic team to create a conceptual project that blurs the boundaries between art and life.
The combination of eroticism, painstakingly elaborate set-ups, and minute attention to detail that characterize Pierre et Gilles' surprisingly varied oeuvre are still firmly in place yet have been transported to a slightly more sinister environment where the clear light of day is more frequently overwhelmed by a darker atmosphere that hints at the mystery and strangeness at the center of life.
Just as in the 19th century, the popularity of kitsch objects gradually brought with it an overall change in attitudes toward the definition of beauty itself, the work of Pierre et Gilles continues their satin revolution while remaining true to their ideals to make the world a prettier place, changing attitudes along the way.
"Pierre et Gilles" at the Marble Palace, 5/1 Millionaya Ulitsa, through May 25. www.rusmuseum.ru
News source: sptimes.ru


Print this news
---
City news archive for 27 April' 2007.
City news archive for April' 2007.
City news archive for 2007 year.