City news
Matviyenko Lets Rip At Local Advertisers
05.15.2007 15:16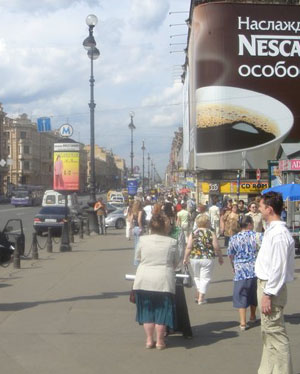 By Yekaterina Dranitsyna
Staff Writer
Four years into her reign as St. Petersburg governor, Valentina Matviyenko has acknowledged the "outrageous" nature of the city's outdoor advertising and vowed to banish it from the center of town.
Matviyenko has offered to remove banners spanning Nevsky Prospekt and other main roads, as well as large posters and billboards both in public and private areas.
At a meeting in Smolny on Friday a working group was created to regulate and standardize advertisement in the city. Within a month the group will have agreed which advertisements to remove or replace.
"Obviously, advertising companies will suffer financially," RBC cited Alla Manilova, chairman of the Committee for Press and Media Relations and head of the working group, as saying Friday. She suggested removing the banners at the advertisers' expense.
According to the City Center for Advertisement, St. Petersburg accounts for about 12 percent of all outdoor advertisement in Russia.
In 2005, the city's outdoor advertisement market accounted for $85 million compared to just $20 million in 2000. The whole advertisement market in St. Petersburg was estimated at $260 million in 2005 and $85 million in 2000.
Last year outdoor advertising contributed $28 million in taxes to the city budget.
"I am mostly outraged by the larger advertisements. I would like to see the architects who in the 1990s allowed such things. Large advertisements should be banned in St. Petersburg because of the unique architectural environment, especially in the city center," Interfax cited Valentina Matviyenko as saying Friday.
According to Smolny, about 1,000 large adverts hang in St. Petersburg. "They were sanctioned by the previous administration. I promise to exclude large advertisement from St. Petersburg's visual image," Matviyenko said to Interfax.
According to ESPAR-Analytic agency, by November last year St. Petersburg housed 252,500 square meters of outdoor advertisements — between Moscow, with 742,800 square meters, and Yekaterinburg, with 116,500 square meters.
Citizen complaints and road safety concerns were among the main reasons for placing limits on adverts in the city center, the authorities indicated.
In July last year, a new Law on Advertisement came into force imposing new standards of advertising space on roads and in urban and rural areas. Experts warned that the outdoor advertising industry could lose up to 80 percent of its placement areas.
The new standard prohibited mobile advertising and advertisements near road signs. In city areas, advertising must be located no closer than five meters from the roadside, in rural areas no nearer than ten meters.
The president of the National Association of Advertising and Information, Sergei Zheleznyak, described the standard as "unrealizable."
"This standard puts at risk the very existence of outdoor advertising," said Vladimir Ryabovol, head of News Outdoor Russia in St. Petersburg.
Advertisements hanging over Nevsky Prospekt will be the first to be removed. The authorities claim that such advertisements were put up against the law. The same practice will be followed on Moskovsky, Ligovsky and Kamennoostrovsky prospekts and all across the city center.
Billboards, brandmakers and even posters with dimensions of three by six meters could be banned.
Advertising companies will be invited to move large advertisements to the outskirts and suburban roads outside residential areas. Alternatively, they could replace large advertisements with scrollers.
"In order to prevent any speculation, I state that we will remove advertisement from all private territories," Matviyenko said at the meeting.
According to Dimtri Gritsenko, General Director at Gallery, the most European of Russian cities is lacking in new, high-tech solutions to advertising.
News source: times.spb.ru


Print this news
---
City news archive for 15 May' 2007.
City news archive for May' 2007.
City news archive for 2007 year.