City news
Clovers to Sprout Up Across the Country
05.23.2007 16:52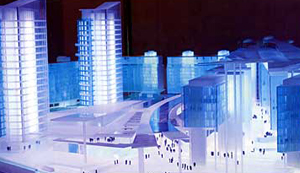 By Yekaterina Dranitsyna
Staff Writer
Clover Group, a holding company registered this year, has put forward plans for a $500 million multifunctional center on Ushakovskaya embankment. The company plans to raise $3.5 billion on capital markets to replicate similar projects across Russia, managers said Tuesday at a news conference.
The 315,000 square-meter Clover Plaza will be built on a 7.8-hectare site formerly occupied by Severny Plant. The complex will comprise an A-class business center (72,000 square meters), elite residential areas (90,000 square meters), shopping and entertainment areas (30,000 square meters). It will also include a conference hall, car park, 150-room 4-star hotel as well as a 120-room apartment-hotel.
"There is no synergetic effect in combining such areas, but we have already completed several complexes of this type and we think this solution is the best one available," said Alexander Popov, general director of Clover Group.
Construction is to start this year, with the complex due for completion in 2011. Popov expects a return on the investment within six years to seven years. MEL company is investor and proprietor of the complex.
The hotels will most likely be operated under the Holiday Inn brand, Popov said. Clover Group signed agreements on strategic partnership with Rezidor SAS and Intercontinental Hotels Group (IHG).
Michael Cooper, Vice-president of Intercontinental Hotels Group, noted that the St. Petersburg market is "extremely important" for IHG because of a continued shortfall in supply.
"Intercontinental has made a long-term commitment to development in Russia. We are looking to cooperate closely with Clover Plaza for the next six to seven years," Cooper said.
IHG is already developing two Holiday Inn hotels in St. Petersburg, with four hotels already open in Moscow.
In total, Clover Group plans to develop 1.5 million square meters of commercial and residential space and over one million square meters of premium and business-class housing in Russia's 29 largest cities. By 2015 the company is expected to increase its capitalization to $7.5 billion.
Clover Group will develop multifunctional centers under the Clover brand, family centers "Ya igrayu" (I play), Vitrina shopping and entertainment centers and residential projects. The company has already completed three multifunctional centers — in Nizhnevartovsk, Vladivostok and Rostov-on-Don.
"At the moment 16 projects are under way in 13 cities," Popov said. Clover Group will soon start the construction of multifunctional centers in another 13 cities. They will comprise A-class business centers, shopping and entertainment areas, residential areas and hotels.
Clover Group will also manage real estate. In St. Petersburg, the company will construct four hotels including two apartment-hotels. The latter will be located on Galernaya Ulitsa and on the Admiralteisky Channel embankment respectively with the other two hotels located on the Ushakovskaya embankment.
Yury Borisov, managing partner of IB Group and president of the Guild of Developers and Managers, was positive that multifunctional complexes can still attract investors. "Stable, long-term investment into one project is an advantage when one considers the level of competition for investment in St. Petersburg," Borisov said. With large projects, investors spend less on bureaucratic procedures and approvals, he added.
This particular complex will benefit from its location in the developing business area between Petrovsky Fort, the city center, the President business center and the Ushakovskaya road-junction.
News source: times.spb.ru


Print this news
---
City news archive for 23 May' 2007.
City news archive for May' 2007.
City news archive for 2007 year.