City news
Securing a Nework Nationwide
06.27.2007 15:40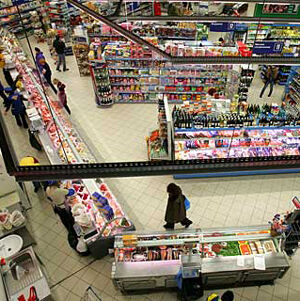 By Yekaterina Dranitsyna
Staff Writer
Reax security agency has launched a national project for unifying medium-sized security agencies across Russia. At the moment the chain operates in three regions. By the end of the year the company expects to sign franchise agreements in 14 cities with populations over million people.
In November last year the chain was launched in Moscow and in the first half of 2007 in St. Petersburg and Nizhny Novgorod. It offers its members access to more resources and modern equipment.
"St. Petersburg and Leningrad Oblast are ahead of other regions in that they use panel security systems where clients are connected directly to off-site security. We think this type of security is the most effective because it combines technology and human resources," Nikolai Krayushenko, chairman of the directors' board of Reax, said at a press conference last week.
"Demand for security guards exceeds available personnel by 30 percent. As clients find out more and more about security services, they start choosing panel security systems because of their efficiency and lower cost," Krayushenko said.
At the moment Reax partners' network has 118 cars and about 700 security guards, including 30 cars and 180 guards in St. Petersburg. Sergei Mnatsakanov, general director of Reax St. Petersburg, claimed that they effectively cover all districts and reach any client in ten minutes.
A security network would be attractive for clients that have offices and other property in a number of different regions, Krayushenko said. The Perekrestok retail chain and Avto-49 dealership are among the companies that have recently signed contracts with Reax.
"It's important for them to order services in one place. It's would be easier to file claims against one company," Krayushenko said.
By 2009 Reax expects its turnover to reach one billion rubles ($38.5 million). In St. Petersburg Reax unifies seven partners together serving about 100 clients. The chain attracts about ten new clients a month, Mnatsakanov said. He expects the growth to speed up after the first 200 clients.
Besides traditional automatic security systems and alarms, Reax also promotes its own innovation — a mobile alarm gadget, which sends a GSM signal from wherever the client is.
According to Industria Bezopasnosti association, 26,000 security agencies operate in Russia employing over 700,000 licensed security guards. 1,500 agencies operate in St. Petersburg. The commercial departments of state security bodies employ 300,000 people. This year the total market for security services is expected to amount to $5.9 billion.
"In terms of turnover the Russian market for security services is comparable to the largest European markets. Panel security systems will beat the competition. The European market proved this," said Igor Filonenko, president of Industria Bezopasnosti association.
Panel security systems allow the client to be reached in three to four minutes, Filonenko said, because cars are always patrolling the streets. "One car could service up to 100 clients," he claimed.
In Europe such services are offered by large companies employing 30,000 to 50,000 guards.
"Security services are developing towards networks. The Reax initiative is an attempt to create an alliance in Russia. It's a positive step," Filonenko said.
Krayushenko claimed that his main competitors are state security bodies that offer similar services across Russia. However large local security agencies were doubtful that the alliance had potential and that their plans were feasible.
"30 cars is not enough to control the whole city. We have 25 cars that are routing through the city daily, and we cover just about a half of its territory," said Oleg Bondarenko, deputy director of Titan security agency.
"You need about 100 cars to control all the districts. Besides, we have information that not all of their cars patrol through the city. Some of them are simply parked," he added.
Titan employs over 300 people. A monitoring station receives alarm signals in real time, and Titan guarantees that its security guards reach a client in three to seven minutes, Bondarenko said.
Both Titan and Aris security agencies attract up to 70 new clients a month.
News source: times.spb.ru


Print this news
---
City news archive for 27 June' 2007.
City news archive for June' 2007.
City news archive for 2007 year.