City news
Skepticism Over New Luxury Cruise Ship
07.13.2007 13:32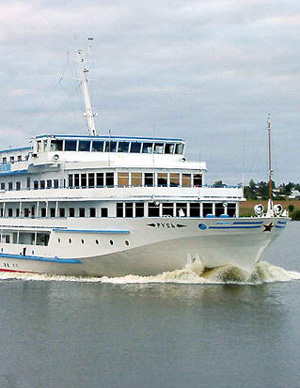 By Yekaterina Dranitsyna
Staff Writer
A unique cruise ship to operate between St. Petersburg and the island of Valaam in Lake Ladoga is due to set sail for the first time Saturday running three times a week to the end of September.
Alien Shipping, in cooperation with Inflot Travel, believe the 4-star ship "Kazan," is unique.
"For the first time Russian tourists are being offered such a luxury ship," Alexei Gakkel, chairman of the board of directors of the Alien group of companies, said Wednesday at a press conference. High-class ships are usually chartered for several years ahead by foreign tour operators, he said.
Compared to the older ships normally operating on river cruises, "Kazan" has the advantage, according to Gakkel, of enlarged areas of public space (a restaurant, conference hall and upper deck with a pool). Alien and Inflot have chartered "Kazan" for six months from a U.K. registered company Tartan Shipping. The four-deck ship was built in 1999 in Italy. It has a capacity of 150 passengers and a crew of 50 people.
"The ship's interior is very original. Its inner walls are covered with antique-style stone," Korol said. The ship has 75 cabins including five first class cabins (two-room apartments), four luxury cabins and standard two-bedroom cabins.
Each cabin will include satellite television and telephone, air conditioning, a fridge and safe. The ship will also feature shops, a gym, sauna and bars, with Wi-Fi to be offered in the near future.
Leaving from the River Terminal the trip will cost 9,400 rubles per person. A first class cabin will cost 25,000 rubles. At weekends the prices will be higher – 9,900 rubles and 36,000 rubles respectively, which is significantly more expensive compared to the one-day trips to Valaam on hydrofoil boats. Alien Shipping offers such trips for 2,800 rubles, while at Neva Travel the trip costs 4,500 rubles per person.
Russian Cruises has operated a three-deck ship "Svyataya Rus" on trips to Valaam for the last seven years. The ship offers standard and luxury cabins, said Alexander Yudin of Russian Cruises press service, with prices varying between 2,290 rubles and 16,000 rubles depending on the cabin. Longer trips cost up to 45,000 rubles.
The ship has a restaurant, cinema hall, music room and bars.
"The trip is very popular. The ship is usually 95 percent full," Yudin said.
Yudin doubted whether Alien would succeed in operating the route on a regular basis. "Alien has started a number of projects that have not been completed — their idea of trips from St. Petersburg to Turku for example. Their Peterhof boat operates very rarely," Yudin said.
He was also concerned about safety. "How could they get all the necessary approvals for sailing and mooring, if other operators got their approvals in March and April? Where will they moor in Valaam?"
News source: times.spb.ru


Print this news
---
City news archive for 13 July' 2007.
City news archive for July' 2007.
City news archive for 2007 year.