City news
The Order And State Of Success
07.27.2007 17:12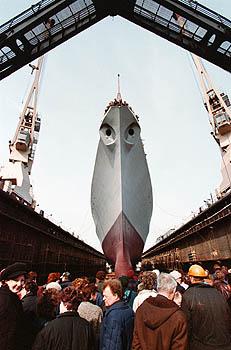 By Anna Shcherbakova
Admiralteysky Verf, the state owned shipyard, has seen its market share fall by half over the last year from 20 to 10 percent, according to research done by City Hall's Committee for Economic Development, Industrial policy and Trade, published earlier this month. At the same time the share of private yard Severnaya Verf has risen from 15 to 39 percent, making it the new market leader.
Over 40 percent of Russia's shipbuilding industry is located in St. Petersburg, with revenue estimated at 30 billion rubles (approximately $1.2 billion) a year. Admiralteysky's production is mainly focused on diesel submarines, but last year it began building oil tankers too. Severnaya Verf produces corvettes and destroyers. Obviously there is no direct competition between the two enterprises.
It's a bit strange to analyze a specialist market such as shipbuilding, especially the construction of military ships, which is what both enterprises specialize in. Shipbuilding cannot be compared to brewing or other consumer industries. It does not need wide promotion. There are a limited number of offers and a limited number of companies that can then satisfy that demand. New contracts are not necessarily given out according to market rules. Subjective choice camouflaged as state interest is flourishing. Companies do not deal with consumers but rather with state officials — in this case marketing becomes 'otkating,' from the Russian word 'otkat,' which means paying back part of a contract's price to the person who had chosen that particular contractor. I don't want to start counting all the money that's found its way into the pockets of Chinese or Indian admirals who order ships and submarines from St. Petersburg's shipyards but it is clear that here both state-owned Admiralteysky and private Severnaya Verf have similar possibilities. Their lobbying power in Russian circles of power is about equal.
Severnaya Verf, owned by Mezhprombank's OPK holding company, is more efficient than Admiralteysky. With assets of 87 billion rubles (about $3.4 billion) Mezhprombank is the 22nd largest Russian bank. But of course the Russian state is much wealthier than any bank. So while there is no need for Admiralteysky to cut costs and care about efficiency, OPK, which also has a stake in another shipbuilder, Baltiysky Zavod, keeps looking to develop further.
This year it announced an ambitious project to move its factory to Severnaya Verf in order to extend its capacity and find synergy between the two companies. The project is worth $500 million and will take eight years to complete. It is an amazing amount of money for St. Petersburg and seems well worth it, given that the plot of land now occupied by Baltiysky Zavod will be used for developments with margins much higher than in shipbuilding. This is yet more confirmation that private companies are more flexible and astute than state-owned ones.
On the other hand, Admiralteysky's poor results could be anomalous. Shipbuilding has longer production cycles than brewing for example. Last year Severnaya Verf completed a destroyer for China worth $300 million — and maybe that explains its relative success.
Anna Shcherbakova is St. Petersburg bureau chief of business daily Vedomosti.
News source: times.spb.ru


Print this news
---
City news archive for 27 July' 2007.
City news archive for July' 2007.
City news archive for 2007 year.