City news
Migration Department Breaks Record for Fines
08.06.2007 16:07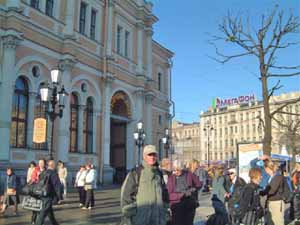 By Ali Nassor
The St. Petersburg and Lenoblast Federal Migration Department has collected a record 52.37 million rubles (over $2 million) in fines for violations of a new migration law restricting the influx of foreign workers in force since mid-January.
The law not only imposes a maximum fine of 800,000 rubles on employers of illegal immigrant workers, but also makes the employer liable for his deportation or expulsion costs.
While only a few hundred illegal immigrants were expelled from Russian territory during the period, President Vladimir Putin's scheme to tempt overseas compatriots back to Russia to replace the foreign labor force has made little headway since it was made public over a year ago.
"You have to believe in a plan before setting out to realize it," said Police Major Yury Buryak, chief of the Migration Department, citing a series of hindrances in putting the presidential plan into practice. "St. Petersburg has been given a target of accommodating at least 8,000 workers belonging to this category [overseas Russians] but there's not even a place to shelter them," he said, adding that, "the same is true in the rest of Russia's North West region."
Sandwiched between EU countries, Russia's Western enclave of Kaliningrad is probably the most suitable place to execute Putin's plan, according to Buryak, who cited a degree of success in meeting its target to attract 350,000 overseas Russians.
Putin called for Russian migrants to return to their homeland to help fill in the population gap he called "Russia's demographic crisis" in his address to the nation in April last year. Six months later, Putin met in St. Petersburg with about 600 representatives of the Russian Diaspora to tempt their 30 million compatriots to return with promises of work and living incentive packages. About three months latter, a law placing restrictions on foreign labor forces came into effect.
"The real concern in Russia's official circles is about an extinction of Russians as a race, rather than population decline in its traditional sense," said Dmitry Dubrovsky, head of the modern ethnology and inter-ethnic relations department at St.Petersburg's Russian Museum of Ethnography," adding that "such cities [as St. Petersburg and Moscow] are as a rule attractive spots for both internal and foreign migrants," without the necessity for a selective ethnic call.
During the six-month period since the new law came into force, raids on 21,500 locations including construction and trading sites, housing, industrial and agricultural facilities in search of illegal foreign workers, migration officers located 366 foreigners from CIS countries who were either deported or expelled.
There was no indication of a negative effect in the local labor market as 130,000 foreigners secured work permits during the period, less than a third of the demand in the city and its surrounding region, but more than four times the number of permits issued in the whole of last year, according to figures released by the migration authorities.
According to Buryak, while 6 million foreign workers were needed across Russia, in St. Petersburg and Lenoblast there were 350,000 vacancies for foreign workers when the law came into force earlier in the year. Buryak said it was unlikely that those jobs would filled by the end of the year, citing problems that included lack of accommodation.
He said that about 355,000 foreigners were registered during the period, but the actual number of illegal migrants is unknown, with more accurate estimates only expected at the end of the year.
However, he ruled out long queues and bureaucratic red-tap as a factor leading to the low turnout for registration, saying that "there are no more queues in our offices and although it's on a commercial basis, there are hundreds of post offices where foreigners are able to register themselves without having to come to us."
Asked if the crime rate had declined following the passage of the strict immigration law, Buryak said, "allegations that foreigners are responsible for most of crimes in the city are totally unfounded... only 1 percent of crimes [in the city] are committed by foreigners."
Though not attributing it to the law, he said "the rate of hate crimes has notably declined," thanks to what he called "law enforcers' awareness of the problem and their commitment in tackling xenophobia."
News source: times.spb.ru


Print this news
---
City news archive for 06 August' 2007.
City news archive for August' 2007.
City news archive for 2007 year.