City news
Killer Of Activist Faces 14 Year Stretch
08.06.2007 14:50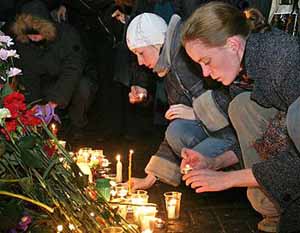 By Galina Stolyarova
Staff Writer
A St. Petersburg jury has found Andrei Shabalin responsible for the lethal stabbing of 20-year-old antifascist activist and student Timur Kacharava, the attempted murder of fellow antifascist Maxim Zgibai in November, 2005 and inciting ethnic hatred.
Following the jury verdict on Tuesday, a state prosecutor has asked for a sentence of 14 years in prison for Shabalin, and suggested shorter terms of between 2.5 and 4.5 years in jail for six other defendants.
The verdict will be delivered on Tuesday, August 7, by the St. Petersburg City Court.
Kacharava was stabbed to death outside the Bukvoed bookstore on Ligovsky Prospekt opposite the Moskovsky Railway Station at around 7 p.m. on Nov. 13, 2005, when a group of teenagers, aged 17 to 20, armed with knives attacked Timur and his friend Maxim Zgibai, another student.
Kacharava died of severe blood loss before the ambulance arrived at the scene of the crime ten minutes after the incident.
Zgibai, who sustained multiple knife wounds and severe brain damage, survived the attack.
Immediately prior to the attack, Kacharava and Zgibai had been taking part in an international humanitarian initiative titled "Food, Not Bombs", giving food to the homeless and street children.
An outspoken pacifist and anti-fascist, Kacharava drew additional attention as a musician. He was a guitarist with two local punk bands, Sandinista! and Distress, known for the provocative wit of their lyrics.
Both Kacharava and Zgibai took part in many anti-fascist events, including the 'March Against Hatred,' dedicated to the memory of the late Nikolai Girenko, Russia's leading expert on ethnically-inspired crimes, who was gunned down on the footsteps of his apartment in June 2004.
Prior to the fatal attack that took his life, Timur, who had been targeted by fascists before, complained to his friends of being followed. Just three days prior to his murder, he told his girlfriend he felt threatened and worried for his life.
Human rights lawyer Olga Tseitlina, who represents the Kacharava family, described the case as very difficult. The advocate is bewildered by what she calls "the attempts to present anti-fascists as a radical youth group of an extremist nature."
"The defendants' lawyers almost made it sound as if Timur got what was coming to him and the judge and prosecutors just turn a blind eye," Tseitlina said.
"We were being forced to prove the most obvious things, like the difference between fascism and anti-fascism, so the discussion at times found itself balancing on the brink of absurdity," the lawyer recalled. "We have to prove that blatantly open fascist rhetoric is discriminating and dangerous. Even though I represented the victims, I was forced to defend them; I had to explain the essence of the difference between fascism and anti-fascism. Needless to say, the distinction is obvious to any sane human being."
"Trying to portray Timur as a radical youth was utterly nonsensical," Tseitlina said. "The values of antifascism are shared by any normal individual, but even that fact needed to be defended. Some of the arguments that we considered important, like, for instance, the swastikas constantly reappearing at the murder scene, were not being taken into account."
Russian experts on violent xenophobia believe that St. Petersburg is the skinhead capital of Russia and accounts for a disproportionately large number of attacks against dark-skinned migrants and foreigners.
Attacks by skinheads and neo-fascist groups on ethnic minorities have become regular occurrences in recent years. But authorities have been generally reluctant to admit the attacks were hate-crimes, trying to categorize them instead as hooliganism or alcohol-fuelled homicide.
While Russia garners negative headlines worldwide because of its rise in skinhead violence against non-Slavs, the anti-racist activists, who call themselves "anti-fascists," who oppose them have received far less attention.
The anti-fascist movement's modest numbers are dwarfed by their opponents in the much larger, more vocal, and often violent nationalist movement. At the anti-fascist rallies in St. Petersburg, police and counter demonstrators usually outnumber those participating. The "Marches Against Hatred", which are held once or twice a year, rarely manage to gather more than about a thousand supporters.
News source: times.spb.ru


Print this news
---
City news archive for 06 August' 2007.
City news archive for August' 2007.
City news archive for 2007 year.