City news
Solutions Sought to Stray Dog Problem
08.28.2007 14:35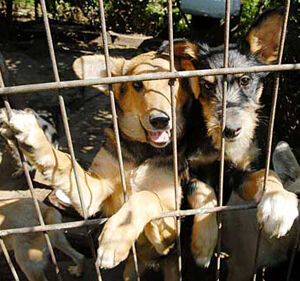 By Evgenia Ivanova
Staff Writer
Photo by Alexander Belenky
A middle-aged woman stoops over her handbag resting at her feet and finds a small piece of food wrapped in plastic. "Koo-koo-koo," she calls to a mud-caked mutt that leaps from the bushes to snatch the morsel from her hand. The dog trots back to its lair to share the food with its pack.
Constantly barking packs of stray dogs prowling the streets in search of food, and potential owners, are a common site in St. Petersburg, either in the city center, wealthy neighborhoods or in the suburbs.
In the past dog-catchers rounded up and destroyed strays, but now animal protection activists are calling for tolerance and say the problem might better be solved with sterilization. Such a program is already underway in St. Petersburg.
"There are dozens of dogs roving here. It can be quite scary, especially for children. The dogs constantly bark at night and it's hard to get to sleep — the situation is very frustrating," a resident of a wealthy Kolomyagi neighborhood, who identified herself as Galina told the St. Petersburg Times.
Despite the fact that the neighborhood is fenced and guarded, the area does not escape the problem of stray dogs.
"People take pity on them and I think, even though everyone complains, some residents feed the dogs. But we are getting used to the situation little by little," Galina said. "Anyway, what can we do with the miserable creatures, we can't exactly kill them, but we don't know other ways to deal with the situation."
According Natalia Korkhonen, a member of the St. Petersburg-based society for the protection of animals, the problem is being tackled by sterilizing existing strays so they don't breed and form feral packs.
"Very often, it's one dog in the pack who barks and its normally happens when they are in heat. So what we do is break up the pack by taking that dog for sterilization," said Korkhonen, who also added that this is the most humane way to deal with the problem of stray dogs.
"There's a statute in place in St. Petersburg [on the humane treatment of stray animals, accepted by City Hall in 2005], according to which the animals which have undergone sterilization have the right to live in the areas from which they were originally taken," she said.
In some situations however, where such dogs continue to harass people, some are taken to a shelter, Korkhonen said.
"For this purpose, we are currently considering negotiating an agreement with the state-run service of animal-catchers so we could take the troubled animals and give them accommodation in our shelter."
"But we would like to appeal to Petersburgers to express their tolerance as we just don't have enough space in the shelter to accommodate all the animals that are currently living in the street," Korkhonen said.
Although the shelter is for temporary accommodation, it's extremely difficult to find new homes for stray animals.
"The most permanent and best place for an animal to be is a home with a family, but it's extremely difficult to find such place for a dog or a cat," Korkhonen said. Only one animal out of ten finds a new owner, she said.
Alexandra Boytsova, another member of the animal protection society, also supports sterilization. According to her, this is currently the only way to stop the ever-increasing numbers of stray dogs.
"There are many people in the city who are eager to take home the dogs that they see on the street, especially if they see a pregnant dog. But then after she has had puppies, people just don't know what to do with them — it's a vicious circle," she said.
"The city animal shelters, which are already more than full, won't take newborn animals, because they need more food and care than grown-up dogs," she said.
"Not everybody knows that there's a program to sterilize stray dogs in place in St. Petersburg which is paid for by the city administration, so if you see a dog which is clearly pregnant, just call the program," Boytsova said.
Olga Skvortsova, an animals right protection enthusiast, said that "the main problem is that supply of stray animals greatly exceeds demand".
"Just today I had the return of a kitten for whom I thought I'd found an owner — but they just played with it and brought it back."
"The solution is definitely the sterilization. And for those who are against it, I can say for certain that the sterilization methods nowadays are humane and there are also ways to preserve animal's natural instincts," she said.
To give an animal a loving home, contact the Animal Trapping Service Temporary Pound, 16 Glukhoozernoye Shosse (Tel. 964 9603) and the Rzhevka Shelter, 1 Poselkovaya Ulitsa (Tel. 527 3820). Animals are given away free of charge.
News source: times.spb.ru


Print this news
---
City news archive for 28 August' 2007.
City news archive for August' 2007.
City news archive for 2007 year.