City news
Curtain up
09.24.2007 15:20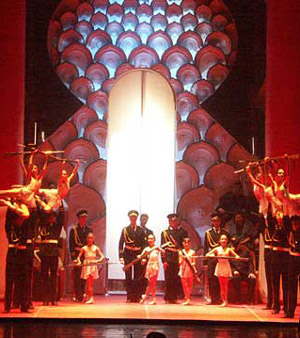 By Galina Stolyarova
Staff Writer
The renowned Mariinsky Theater which began its 225th season on Sunday with a performance of Mikhail Glinka's opera "A Life for the Tsar," has revived its system of selling season tickets that offer discounted packages of seats to five shows over the course of the year.
Valery Gergiev, the Mariinsky's artstic director, feels the innovation will generate much interest from the public.
"These programs have been tailored to both dedicated musical theater audiences and those who may even not have heard much classical music," Gergiev said.
The new season offers much to tempt a broad audience. Tenor Vladimir Galuzin and soprano Maria Guleghina star in Puccini's "Tosca" on Sept. 21 with Valery Gergiev conducting. Galuzin then appears as Alexei in Prokofiev's "The Gambler" on Sept. 25.
Bass Yevgeny Nikitin is due to sing Figaro in Mozart's "Le Nozze di Figaro" on Sept. 30 and bass Sergei Aleksashkin performs the role of Ivan Susanin in Glinka's "A Life for the Tsar" on Sept. 28.
The Mariinsky's new concert hall is also going to be busy in the new season. On Sept. 26, Japanese pianists Mutsuko Dohi and Ayeni Manon Janke, and violinist Juki Manuela Janke will perform alongside the Mariinsky symphony orchestra in a program of Mussorgsky, Shostakovich, Mozart and Akira Ifukube.
On Sept. 27 the venue hosts a recital of renowned Danish violinist Nikolai Znaider with a program of Mendelsohn, Smetana and Dvorak.
Contemporary Russian and British classical music will take center stage at a new festival, Jewel of Russia, that kicks off at the Mariinsky concert hall on Oct. 27 and showcases works by Stravinsky, Britten, Tishchenko, Igor Slonimsky, John Barry and other modern composers. The program of the event, which runs through Oct. 31, features the Russian premiere of Kiev-born minimalist composer Valentin Silvestrov's Sixth Symphony as well as the first performances in Russia of British composer Thomas Ades's opera "Powder Her Face," his violin concerto and symphonic work "Asyla."
For the current season the Mariinsky has developed eight thematic series of season tickets. A program titled "The World of Tchaikovsky," includes performances of "Swan Lake," "The Nutcracker," "Eugene Onegin," "Sleeping Beauty" and "The Enchantress," while one of the most tempting options, "Three Centuries of Musical Theater" features Puccini's "Turandot," Petipa's "Don Quixote," Mozart's "Don Giovanni," Bizet's "Carmen," and Richard Strauss's "Elektra."
"The season ticket, which entitles the holder to visit five performances, is a good bargain: depending on the type of seat, the price varies from 1,900 rubles ($76) to 5,900 rubles ($236)," said the Mariinsky's press officer Oksana Tokranova.
"Apart from the clear financial benefit, the new offer provides an opportunity to see the shows that normally sell out very quickly, like, for instance 'Swan Lake' or 'Eugene Onegin.'"
Some of the programs are devoted exclusively to opera. The "Great Operas" collection features Verdi's "La Traviata," Janacek's "Jenufa," Puccini's "Turandot," "Tosca" and "Madame Butterfly."
One of the programs focuses on 20th century music and includes Balanchine's "Jewels," Grigorovich's "The Legend of Love," Prokofiev's "The Gambler," Britten's "The Turn of the Screw" and Prokofiev's "Romeo and Juliet" choreographed by Lavrovsky.
November sees the first operatic premiere of the Mariinsky's 2007/08 season.
Vasily Barkhatov, an up-and-coming director from Moscow, will produce his interpretation of Verdi's "Otello." Known for his experimental productions at Moscow's Helicon Opera, Barkhatov will be making his second collaboration with the Mariinsky. The director staged a cerebral interpretation of Janacek's dark psychological drama 'Jenufa' in April 2007, which gained high critical praise.
The Mariinsky's impressive stock of Verdi operas already includes Kirill Serebrennikov's "Falstaff," Dmitry Bertman's "Nabucco," Walter Le Moli's "Rigoletto," Andrei Konchalovsky's "Un Ballo in Maschera, Charles Roubaud's "La Traviata," Elijah Moshinski's "La Forza del Destino," Yury Alexandrov's "Don Carlos," David McVicar's "Macbeth" and Alexei Stepanyuk's "Aida."
Most of the shows from that list have been mounted over the past four years. Barkhatov's show is intended to replace Yury Alexandrov's infamous production that was branded "racist" by one British reviewer when on tour in London in 2001. The critic was outraged by the director presenting the Russian singer playing Othello in blackface.
In 2001, which UNESCO declared the year of Verdi to mark the 100th anniversary of the composer's death, the Mariinsky produced an avalanche of operas from his repertoire. This resulted in a patchy selection of shows, which London critics panned at a Verdi Festival later that year.
Among the definite events, the audiences can also expect Mozart's "Die Zauberflote" (The Magic Flute), which is due to be staged for the Mariinsky's new state-of-the-art concert hall in December. The production will be directed by Frenchman Alain Maratrat who staged acclaimed award-winning productions of "The Love for Three Oranges" and "Il Viaggio A Rheims" in previous seasons.
British director Ian Judge, responsible for a romantic impressionist rendition of Puccini's "La Boheme" comes back to the Mariinsky to try his hand at Wagner's "The Flying Dutchman." The premiere is scheduled for February.
With his 2001 production of "La Boheme" for the Mariinsky, Judge had avoided a sophisticated conceptual staging yet he created a masterful backdrop for the young Mariinsky singers. Judge's show — where he moved the heroes of Henry Murger's "Scenes From Bohemian Life" novel from 1830s to 1930s Paris — did not aim for a particularly original approach, concentrating instead on achieving a harmonious performance.
The International Mariinsky Ballet Festival will also be held in the spring followed by the company's world-famous event, "The Stars of the White Nights" festival.
www.mariinsky.ru
News source: times.spb.ru


Print this news
---
City news archive for 24 September' 2007.
City news archive for September' 2007.
City news archive for 2007 year.