City news
Residents against moving to St. Petersburg IT-zone
03.18.2008 09:53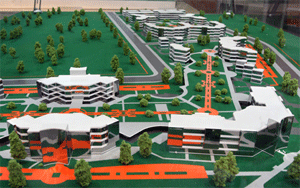 A list of residents for Novo-Orlovsky site of Neudorf special economic zone (SEZ) is being compiled in St. Petersburg. The city's administration intends to form an IT-cluster. However, not all the companies named as possible SEZ residents are ready to move there. Meanwhile, the city administration has calculated the revenue, the companies having moved to Neudorf might receive.
St. Petersburg special technology-innovative economic zone consists of two sites: Neudorf, which is not far from the Village of Strelna to the south of St. Petersburg, and Novo-Orlovsky to the north of St. Petersburg in the forest-park with the same name. CNews reported earlier that the list of residents for Neudorf was compiled. It consistes of 12 companies mainly engaged in IT and telecommunications development.
The city administration also intends to setup an IT-cluster on the Novo-Orlovsky site. The presentation made by Vitaly Aleinikov, deputy director of the federal agency to manage St. Petersburg special economic zones, outlines the plans to develop SEZ. The infrastructure facilities are planned to be created in Novo-Orlovsky by 2012. Thus, gas supply and electricity are expected to be installed by 2009, drainage by 2010, water supply by 2012. Furthermore, Mr. Aleinikov has named 8 companies, which are thinking over removal to Novo-Orlovsky. Among them are Foxconn, Paladin Invest, Promt, Bercut, and the Compulink Group of Companies.
Paladin Invest confirms corresponding negotiations are being held. However, the company refused to provide any details. Andrey Korzhakov, Director General at Foxconn Rus, tells CNews that Foxconn is considering various possibilities to expand its presence in St. Petersburg including establishing a development center in Novo-Orlovsky, but provides no more details. It should be noted that late in February Foxconn bought 12 hectares not far from Kolpino, suburb of St. Petersburg, where it intends to launch computer and laptop assemblage in QI 2009.
However, not every company has confirmed its readiness to move to the Novo-Orlovsky site. Thus, the press service of Compulink tells CNews that 'the company knows nothing about participating in the technopark project'. Alexander Andreev, CMO at Promt, tells CNews that his company has set up on Vasilievsky Island long ago and does not mean to change its location. Bercut refused to give any comments.
If nothing is clear regarding the northern site of the SEZ, then Neudorf residential target profit has been calculated. According to Mr. Aleinikov, over 2008-2010 it might reach 6562.783 mln rubles ($276.01 mln), 695.37 mln rubles ($29.245 mln) being levied as tax and jobs totaling 3 thousand. 'Neudorf urban planning documentation has been prepared, space planning having been developed. Designing the administrative and business center is underway', - tells Vitaly Aleinikov. He also adds that St. Petersburg governor has held to construct guest houses in Neudorf depending on the number of claims filed by the residents. Vitaly Aleinikov says the given measure is important to involve staff and is required by several residents, i.e. Tranzas, Gazproject and others.
News source: CNews.ru


Print this news
---
City news archive for 18 March' 2008.
City news archive for March' 2008.
City news archive for 2008 year.