City news
Green waves
08.23.2008 08:26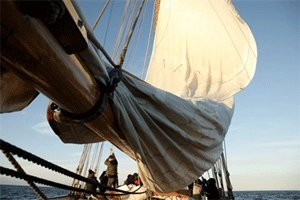 The Moving Baltic Sea Festival, a traveling film and environmental event, is coming to St. Petersburg today for three days with its program of film screenings, bands and DJs, environmental activities, creative-workshops, and many other, large and small events, to be hosted mostly at the Sergei Kuryokhin Modern Art Center on Vasilievsky Island.
The festival travels by sea on the boat Lovis, which has stopped in Germany, Poland, Kaliningrad, Latvia and Estonia, and is now anchored at Angliiskaya Embankment.
The event aims to bring together artistic and environmental communities from all around the Baltic Sea area, creating a "living space" for film, art and ecological initiatives, as well as a three-day-party wherever it stops.
According to the festival's main international organizers, Berlin-based Moviemiento, St. Petersburg is the final destination for the Moving Baltic Sea event, and so the place where the results of the festival can be summed up. Before this festival, Moviemiento already had experience with organizing traveling film festivals. In 2003, 2005 and 2006 the organization traveled across Europe in a bus, creating open-air screenings in many small towns of Central and Southern Europe. A couple of years ago the environmental topic within the Baltic Sea area was added to the film program and the idea of a sailing film festival appeared.
Project coordinator Suzana Radisic said the team then found the Lovis, a vessel built more than a 100 years ago and restored by a group of individuals from Greifswald, Germany, who were interested in sailing and educational programs. The Lovis arrived in St. Petersburg on Wednesday and can be seen on the Angliiskaya Embankment from Blagoveschensky (former Lieutenant Schmidt) Bridge.
The St. Petersburg part of the program was organized by the German-Russian Exchange alongside with a number of partner organizations. The highlights of the St. Petersburg program are the film screenings.
On Friday there's a showing of the Moving Baltic Sea short film competition on the topic "Stories from the Seaside" (the competition was held earlier this year, and the winning program includes two Russian films; one documentary, called "The Perfect Place" by Yelena Solodkova from Moscow, about life on Shikotan, a small, remote island of on the west border of Russia; and one cartoon "The Tiny Fish" showing the story of a painted fish coming to life).
Another film program, also to be shown on Friday night, is a collection of art-house short films about water, provided by the partner festival Open Cinema. Saturday will witness the screening of the international short film program "Colors of Green," which includes advertising videos, short videos, and other film/video works related to the color green. A workshop for young St. Petersburg filmmakers, called "Shoot and Run. A 48-hour Film Workshop" will be run with the State Center for Modern Art, and on Sunday evening its results will be shown in the Kuryokhin Center.
Bands from St. Petersburg, such as Uniquetunes and Info (Saturday) and Markscheider Kunst (Sunday) will perform, with concerts followed by DJs from St. Petersburg and Berlin playing until morning. A special DJ event at the festival is a "Silent Disco." The idea is that every participant gets earphones, chooses the music he likes from the DJ and dances in a completely silent room.
Other events to be presented at the festival are performances on the topic of water (one by U.S.-based artist Ian Winters and the other one by St. Petersburg-based group Lucid Dream Organisation), a "green" graffiti workshop, a photo exhibition organized by the Green Wave movement, a flea market in the courtyard of the festival venue and a creative workshop for young authors, art-critics and photographers from the Plotki cultural magazine.
There are also ecological events. Among these is the opening of a public discussion on promotion of environmental awareness through art and culture in Europe and Russia, an environmental workshop on pollution in the Baltic Sea organized by a St. Petersburg NGO Keep St. Petersburg Tidy, a roundtable discussion on environmental volunteering, and an action called "Green Finger" from WWF Russia.
"We'd like to show that the environment is not something distant, but rather close and concrete. It doesn't belong somewhere out there, but actually starts in your bathroom or kitchen. We'd like to make 'green' topics fun," said Astrid Schorn from the German-Russian Exchange.
News source: Times.spb.ru


Print this news
---
City news archive for 23 August' 2008.
City news archive for August' 2008.
City news archive for 2008 year.