City news
U.S. indie-pop duo Rubies visit St. Petersburg this week.
11.28.2008 20:23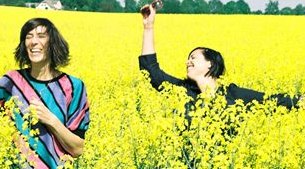 Although both members of indie-pop duo Rubies hail from California, singer-keyboardist Simone Rubi and bassist Terri Loewenthal have gained more fame in Europe than in their home country. Getting set to arrive in Russia to play Achtung Baby on Friday, Rubi even describes the European tour they're on now — their third —as the band's "best so far."
"We've had a great response in Europe," Rubi said in an email interview from Norway this week. "Because of that, we haven't really had time to focus on the States. We feel that fans in Europe enjoy dancing and because a lot of our music incorporates some elements of disco, the crowd in Europe is better for us."
Rubi and Loewenthal met through some mutual musician friends in San Francisco. "We ended up getting along so well as friends and musicians we decided to move in together," said Rubi.
"We've always shared a love of great melodies."
Before forming Rubies in 2005, the pair spent seven years together in Call and Response, another Californian five-piece indie-pop band, but moved on because Rubi wanted to concentrate on her own songwriting, try new sounds and tour more. "Taking the driver's seat" is how she described a shift in her roles between the two bands.
"We are a mix of different styles, kind of like a record collection of intimate songs whether they are pop, folk, or disco," Rubi said about her new band's music.
""We've always been influenced by melody driven, beachy, poppy, soul. I grew up in a small town in Southern California where the Beach Boys lived, always listening to harmonies and finding some Motown influence as well."
The lead vocalist, whose favorite music includes Burt Bacharach, old folk records and the newest album from dream-pop purveyors Whitest Boy Alive, said that Rubies' work even drew comparisons to Scandinavian music.
Both California and Scandinavia "are very strong with melodies," she noted. Apart from music, the two musicians are keen on visual art: both practice artistic photography, while Rubi also designs album covers. Rubies' shows occasionally feature photo projections, and among Rubi's album-art credits is the jacket of Canadian singer-songwriter Feist's best-selling 2007 album "The Reminder."
That breakout Canadian appears on Rubies' debut album "Explode from the Center," which came out in March and features a who's-who of guests from the international indie pop scene, including Eirik Glambek-Boe of Norway's indie folk-pop duo Kings of Convenience and Maria Eriksson of Swedish band The Concretes.
But even with the list of eye-catching collaborators, Rubi and Lowenthal kept the album personal, not shying away from expressing intimate, and sometimes mystifying, emotions.
"I have one song that mixes the metaphor of living in a house that is designed wrong," Rubi wrote.
"'Every night we sit and feel the seasons passing by in a room designed too bright, in a box that has no sides. A house is made with walls that save the gentle and the helpless, but the roof will collapse without ideas that don't last. I want a home that sees, a home that feels, and I'm holding on to you.'"
Rubies perform on Friday at 10 p.m. at Achtung Baby, located at 2A Konyshennaya Ploshchad. M. Nevsky Prospect.
News source: http://www.times.spb.ru/


Print this news
---
City news archive for 28 November' 2008.
City news archive for November' 2008.
City news archive for 2008 year.