City news
Russia switches to daylight saving time
03.29.2010 18:22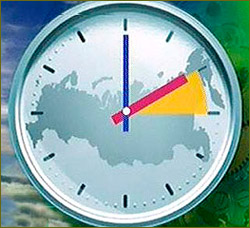 Russia will now have nine time zones instead of 11 as the country switched to daylight saving time (DST) Sunday, turning the clocks forward one hour at 2:00 a.m. local time.
Daylight saving time was introduced in the Soviet Union to reduce energy consumption by making the most of longer days in summer. Russia changes to and from DST on the same dates as Europe, moving clocks forward one hour on the last Sunday of March and back one hour on the last Sunday of October.
The first recorded time change in Russia was in 1917.
Russia also united the Urals and Siberian time zones as part of a project to slash the time difference across the country's vast territory.
Up until now, Russia had 11 time zones, spanning a vast territory from the western exclave of Kaliningrad (-1 Moscow time) to Petropavlovsk-Kamchatsky in the Far East (+9 Moscow time).
The project, approved by Russian President Dmitry Medvedev Wednesday, reduced the number of time zones in Russia from 11 to 9. Sunday the Samara Region and the Republic of Udmurtia, which were one hour ahead of Moscow, moved into the capital's time zone.
Chukotka and Kamchatka, two regions in the Russian Far East, moved into the Magadan time zone (+8) to be one hour closer to Moscow time.
Doctors have argued whether switching to DST, also called summer time in some countries, and back, is harmful to people's health, with some saying the switch deteriorates the condition of people with cardiovascular diseases and unstable psyche, and others denying that any serious harm could be inflicted.
News source: St Petersburg News.Net


Print this news
---
City news archive for 29 March' 2010.
City news archive for March' 2010.
City news archive for 2010 year.