City news
Russian Plushenko's fans to console him with 'people's' gold medal
04.05.2010 19:05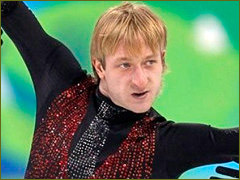 Fans of Russian skater Evgeni Plushenko, who hoped to become the first repeat men's Olympic gold medalist since 1952, but won silver in the free skate at the Vancouver Games, will award the skater and his coach "people's" gold medals, the initiator of the award has said.
Plushenko's coach, Alexei Mishin, will be awarded an alternative medal during a ceremony in Saint Petersburg on Sunday, Dmitry Ilkovsky said. The 27-year-old skater, who was reported unable to attend the ceremony, will receive his award later, he said.
The medals, intended to console the skater and his coach, are made of gold contributed by Plushenko's fans.
Mishin's medal made of 14k gold weights 0.5 kilograms (1.1 pounds) and is decorated with six diamonds.
Earlier, Ilkovsky said a medal to be awarded to Plushenko weighted 0.516 kilograms (1.137 pounds), the exact weight of an Olympic gold. However, there is only 0.006 kilograms (0.013 pounds) of gold in an Olympic gold medal, with the rest being siver. Plushenko's medal was expected to comprise more gold or even fully consist of these metal.
Plushenko, who led Evan Lysacek of the United States by half a point after the short figure skating program in Vancouver, was beaten out by the American in the final free skate despite performing a more difficult routine. He disagreed with the result, saying he should have been given the gold as his performance was obviously better. He did not want to take part in the traditional victory lap and hurried to remove the silver medal from his neck.
The president of the International Olympic Committee criticized Plushenko, who had suggested Russian sports officials should challenge the result, for his behavior after the competition.
Experts say Plushenko received silver because a new system of judgment is in effect in figure skating, and that it fails to properly take into account complicated elements performed by skaters.
In mid-March, Russian President Dmitry Medvedev awarded Plushenko the Order of Merit for the Motherland.
The former Olympic and three-time world champion returned to the ice late last year after a self-imposed retirement from competitive skating following his stunning performance in Turin in 2006.
He easily won an international Moscow cup in October and the Russian national championship in December. He also triumphed at last month's European Championships.
News source: News.Az


Print this news
---
City news archive for 05 April' 2010.
City news archive for April' 2010.
City news archive for 2010 year.