City news
High-speed train riles Russians on wrong side of tracks
04.22.2010 18:11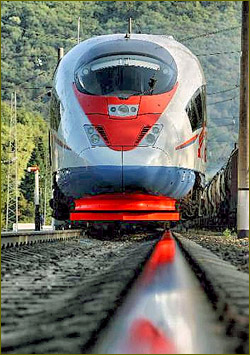 Russia's first high-speed train, the Sapsan, has made life easier for well-heeled commuters after its launch but sparked a hate campaign from ordinary people living along the route.
To vent their rage at the train, which travels between Moscow and the former imperial capital of Saint Petersburg in just three hours and 45 minutes, residents have thrown stones and even fired shots in at least 14 attacks, according to Russian Railways (RZD).
In January, a resident of Leontyevo, a village in the Tver region, threw a block of ice at a carriage, breaking a window.
The man responsible told police he decided to damage the train after he was knocked off his feet with a blast of air as it sped past at 250 kilometres per hour (155 mph).
The new high-speed train -- which runs along ordinary tracks -- represents a particular danger because in Russia the tracks are not fenced off and are used by many rural residents as footpaths.
Four people have been knocked down by the Sapsan since its inception in December last year, a senior interior ministry official said last week in comments reported by Fontanka.ru, a Saint Petersburg news web site.
The train moves almost silently at high speed and people often take shortcuts across the railway rather than using inconveniently placed level crossings, said Alexander Brevnov, the deputy head of the interior ministry's transport law enforcement department.
"The transport minister (Igor) Levitin has called for Sapsan to be fully isolated from other railway tracks. I fully agree with him," Brevnov said.
The Sapsan -- which means Peregrine Falcon in Russian -- was launched with the aim of catapulting Russia's vast railway network into the era of high speed rail travel.
The dashing white and red German-made trains are a marked contrast to the green carriages that have traditionally carried travellers across Russia on lumbering sleeper trains.
"I have seen bunches of flowers left along the tracks in memory of two people killed due to Sapsan," said Tatyana Khrolenko, 70, who has a country cottage outside Saint Petersburg.
The numbers of those killed on the tracks in Russia are already extraordinarily high -- 2,953 people died last year and 1,494 were injured, according to Russian Railways.
The launch of the Sapsan also led to cuts in local train services that criss-cross the route, making it harder for people living in the region to travel to work and dachas.
Earlier this month, two men were arrested after they shot at the train with an air rifle, while in January, a stone was thrown through a carriage window as the train passed through the Tver region.
Blogger "aart" complained that he arrived at a station in the Moscow suburb of Skhodnya with his child, and found out that three local trains had been removed from the schedules.
"We had to wait an hour and a half in the cold," he wrote. "Both of us fell ill. Next time if I see the Sapsan approaching, I will pick up a stone."
Many locals are resentful of the sleek ultra-modern train, whose tickets priced at up to 230 dollars for a first class seat are well out of the reach of most rural residents.
"The Sapsan is obviously a train for the elite," complained Khrolenko.
"No one thinks of those who live between Moscow and Saint Petersburg and who also need to travel," she said. "Of course throwing stones is barbarous, but it's the only way for people to show their discontent."
Anatoly Osnitsky, the director of a psychology and psychotherapy centre in Saint Petersburg, attributes the resentment to more than headaches over commuting.
The Sapsan is irritating to many because it transports a privileged class and reminds them of their relative poverty in a country which still has a huge gap between rich and poor, he said.
"For many inhabitants of the regions between Moscow and Saint Petersburg, the Sapsan is a symbol of success," he said.
News source: Google.com


Print this news
---
City news archive for 22 April' 2010.
City news archive for April' 2010.
City news archive for 2010 year.