City news
Setting sail from St Petersburg
06.07.2010 16:11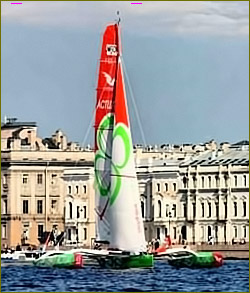 Farewell to S Petersburg, Russia. At 2019 local time the fleet of nine Multis50s set sail on the return leg of the Vendee St Petersburg race from Kronstadt Island, at the entrance to the city. Sunshine and light airs are due to accompany the sailors for the first stretch out into the Gulf of Finland, before the wind freshens in the Baltic.
The stopover in St Petersburg will certainly have left its mark on the Multi 50 sailors, a very different proposition to the classic race destinations on the western side of the Atlantic. Competitors were able to discover here a culture stretching back over the centuries, a people undergoing a transformation, incomparable architecture (in places not dissimilar to Paris, upon which the Czar based its architecture...), considered to be among the most beautiful in the world. They were able to sail on the Neva, discover the bewildering charms of the white nights, strolling in the maze of streets of this city with its four million inhabitants, but which still manages to keep its provincial air.
Philippe de Villiers, President of the Vendée Council, who visited to thank the race's Russian hosts, has already announced there will be another edition of the race in four year's time, so the sailors know they will be coming back again.
However the focus has returned to the journey ahead as they thread their way out of the Baltic and back south.
In theory, the crews can look forward to some great speeds during the first days of racing as they make their way across the Baltic, pushed along by a strong ENEerly wind. The passage through the Oresund, the channel between Denmark and Sweden where they are likely have to tack upwind, looks rather more complicated. As for the North Sea, it is currently under the influence of a northwesterly air stream, which is set to fade away leaving unreliable light airs behind. So it is likely that once again we will be watching a race with many different episodes, where the frontrunners one day may well see their advantage melt away, and where there will be a number of weather hurdles to deal with, not to mention the tidal gate around the French coast. Whatever happens, taking into account the fleet's performance on the voyage up to St Petersburg in what were after all very unfavourable conditions, it is highly likely that we can look forward to a faster reference time… And who knows? Maybe the first boats will finish back in Saint-Gilles Croix de Vie next weekend.
Leg one results – St Gilles Croix de Vie-St Petersburg
Crêpes Whaou ! 3 (FY Escoffier) finished on 24th May at 05h31mn49s GMT
Actual (Y Le Blévec) finished on 24th May at 05h33mn04s
Crêpes Whaou ! 2 (L Féquet) finished on 24th May at 22H08mn00s
Région Aquitaine Port-Médoc (L Roucayrol) finished on 26th May at 09h32'10s
FenêtréA-Cardinal (E Le Roux) finished on 26th May at 10h37'50''
Naviguez Anne Caseneuve (A Caseneuve) finished on 26th May at 10h49'26''
La mer révèle nos sens (P Hingant) finished on 26th May at 12h08'00''
CLM (H Cléris) finished on 26th May at 13h53'23''
π R2 (E Hochédé) finished on 27th May at 05h36'10''
News source: TheDailySail


Print this news
---
City news archive for 07 June' 2010.
City news archive for June' 2010.
City news archive for 2010 year.