City news
First Congress of Rabbis of Russia Concludes
06.25.2010 14:18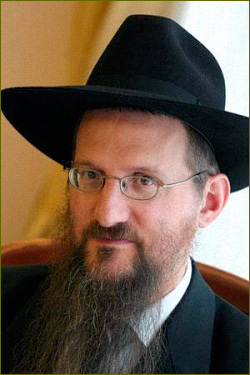 The first Congress of Rabbis of Russia finished yesterday in S. Petersburg. The goal of the gathering was to discuss ways to strengthen Jewish pride and expand Jewish education throughout Russia.
In welcoming the crowd, Chief Rabbi of Russia Berel Lazar noted that the date of the Congress was not coincidental. "It was 83 years ago here in S. Petersburg that the sixth Lubavitcher Rebbe, Rabbi Yosef Yitzchak Schneersohn, was released from the fortress after being arrested on charges of carrying out religious activities," he noted. "He was arrested for supporting religious education and for assisting Jews in observing the commandments. We are continuing these activities today, but with the support of the State! The fact that this Congress is taking place is a sign of the extent of the changes that have occurred in Russia."
Chief Rabbi of S. Petersburg Menachem Mendel Pewzner commented that the Congress is the embodiment of the Talmudic statement "Who is wise? He who learns from everyone." He noted that "it is important to share experiences. Perhaps a problem facing a rabbi in one city has already been experience and resolved by a rabbi from another town. The very realization that this is not just your problem helps in finding a solution."
In his speech, S. Petersburg Jewish community Chairman Mark Grubarg called on rabbis to "find an approach to touch the heart of every member of their respective communities and to reinforce people's desire to move towards studying Torah and observing its commandments."
A delegation, including Rabbi Lazar, Chief Sephardic Rabbi of Israel Shlomo Amar, Rabbi Pewzner, and Mr. Grubarg, was received by Governor Valentina Matvienko at Smolny. The Governor congratulated participants of the first Congress and noted the impact of the local Jewish community to the successful development of inter-religious dialogue as well as its participation in the "Tolerance" program for enhancing inter-ethnic and intercultural relations.
Rabbi Lazar noted, "The world is changing. Today in Russia, conditions are fitting for all communities to develop successfully. The Jewish community is ready to participate in the growth of Russia by to investing our strength and knowledge, to make life better for all Russian citizens."
Rabbi Amar thanked the Governor for his cooperation in aiding the Jewish community's development. "The Russian Jewish community today is playing a very important role in the global Jewish community," emphasized Rabbi Amar.
In the evening, members of the Congress participated in the dedication of a new Torah scroll for the synagogue.
News source: FJC.RU


Print this news
---
City news archive for 25 June' 2010.
City news archive for June' 2010.
City news archive for 2010 year.