City news
Evgeni Nabokov Heads For Greener Pastures With SKA Saint Petersburg
07.09.2010 16:03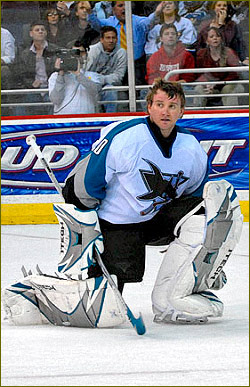 Having spent the past seven days hovering near the top of "still available" lists of National Hockey League general managers, spearheading the "goaltender" subheading, unable to agree to terms with any of the 30 North American teams, star crease monster Evgeni Nabokov has agreed to walk toward the tax-free light of mother Russia.
Early Thursday morning, SKA Saint Petersburg, one of the Kontinental Hockey League's premier organisations, announced its signing of the 34-year-old netminder to a four-year contract.
Nabokov makes the trip to the KHL after spending the last 13 years of his life in the San Jose Sharks organisation, forging a reputation as one of the NHL's elite backstops of the past decade, but also as one of the league's most disappointing underachievers come playoff time.
The Kazakhstan-born Russian won the Calder Trophy in 2001 as the league's top rookie performer, gained recognition on the NHL First All-Star team in 2008, was named a finalist for the Vezina Trophy, annually awarded to the NHL's premier goaltender, in that same year, and twice represented the Western Conference in the NHL All-Star Game, as well as his country in the 2006 and 2010 Winter Olympic Games.
In this past campaign, he finished sixth in the league in save percentage, and in the top ten in goals against average, boasting a 2.43 clip – all of this coming en route to his third straight 40-win season, becoming just the second goalie in NHL history to achieve such a feat on 11 February with a victory over the Detroit Red Wings.
Now, Nabokov joins fifteen other past NHL players in Russia's second-largest city, including fellow Russians Sergei Brylin, Darius Kasparaitis, Alexei Yashin, Sergei Zubov, and Andrei Zyuzin; all the while, making himself the second former NHL all-star goalie to move on to Russia this year alongside Buffalo Sabres great Dominik Hasek.
Said Nabokov's agent, Sergei Isakov, of the move: "Nabokov will come over to Russia in the beginning of August with his entire family. We agreed to the sum with the Saint Petersburg club long time ago, and we were figuring out living-related questions lately, which were related to the move of Evgeni's family to Saint Petersburg."
Needless to say, Evgeni had the KHL on his radar ever since the conclusion of his pact with the Sharks. Considering the small niche for teams in need of top-flight goaltending as it was – a niche possibly shrunken by the performances of the cheap Michael Leighton and Antti Niemi in their respective teams' run to the Stanley Cup finals – the return to Europe had been pegged as a possibility for quite some time in anticipation of not being offered top dollar for his services.
"There wasn't much interest going on [in the NHL]," Nabokov explained to ESPN.com. "We had a couple of [NHL] teams interested ... but I had to make my decision pretty quick."
SKA president Alexander Medvedev declined to divulge further detail on the agreement outside of its length, though its monetary spoils have been speculated by Russian Hockey Fans writer Alexander Zaitsev to be worth about $24 million, seeing his annual intake to be right on par with the $6 million handed to him in 2009-10 by San Jose, a price higher than any NHL team had been willing to offer this summer.
Interestingly enough, while his movement overseas is a grand enough development in NHL circles in and of itself, it too has an impact on the Ilya Kovalchuk saga.
In the time leading up to the opening of the free agent window on the first of July, SKA had purportedly approached the dynamic right winger with a contract upward of $42 million over three seasons.
By adding Nabokov today, however, the Saint Petersburg outfit has made their potential import of Kovalchuk impossible.
Under KHL salary cap rules, each franchise is allowed to exclude one player's earnings from the salary ceiling of roughly $18 million, regulation akin to Major League Soccer's "Beckham Rule."
Now, to put it simply, Nabokov's deal puts SKA over that limit, giving the club no option but to designate the mask as their marquee man, their cap-excused player. And thus, no longer is there room in Saint Petersburg for the deal reportedly extended toward Kovalchuk.
In the end, though, by SKA Saint Petersburg incorporating Evgeni Nabokov into its ranks, the Kontinental Hockey League has pulled off its highest-profile coup to date, robbing its North American counterpart of one of its top, in-form talents, seeing that "the Russian Factor" gains yet more credence.
News source: Bleacher Report


Print this news
---
City news archive for 09 July' 2010.
City news archive for July' 2010.
City news archive for 2010 year.