City news
Kino Expo, year 12: Russian cinema industry celebrates growth in St. Petersburg
09.10.2010 17:12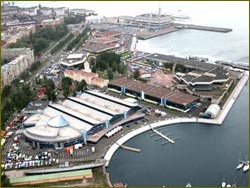 The 12th annual Kino Expo International Convention and Trade Fair will take place Sept. 21-24 at the LenExpo Exhibition Complex in St, Petersburg, Russia. It's been another robust year of growth for the Russian and CIS cinema business, and this gathering of industry executives continues to increase its profile. Dmitri Kazuto, managing director of Kino Expo and CEO of Russian exhibitors association Kinoalliance, offers an exclusive preview of the 2010 show.
What's new at Kino Expo 2010 and what are the major highlights of this year's show?
We are in our 12th year as an international film exhibition business convention and trade fair, focused on the markets of Russia and the CIS [Commonwealth of Independent States]. Whatever new happens in the industry is reflected in the convention agenda. This year is definitively a year of 3D in Russian film exhibition. All of the issues associated with d-cinema and the 3D rollout are the most discussed, and along with the topic of attracting new audiences to cinemas, they will be central to our annual "Film Exhibition Business" international conference agenda.
I can't help but mention the Coca-Cola business development seminar, which year after year draws huge interest from the local cinemas. Making concession operations even more effective is very important in view of the uncertain economic situation.
We hope that one of our new ideas becomes a Kino Expo 2010 highlight: For the first time, Kino Expo and Nevafilm will conduct an "Interactive Film Business Championship." This is a panel discussion in the form of a competition of two teams of speakers—industry leaders whose remarks on the most important and sometimes sharp issues will be judged by the audience by means of electronic voting. We expect that this very informal discussion will bring better mutual understanding between various segments of the film industry—big and small cinemas, distribution and production.
Speaking of films, as always there will be spectacular presentations of new major studio releases by 20th Century Fox, Walt Disney Studios, Sony Pictures Releasing, Universal, Paramount and Warner Bros. Pictures (the latter two represented by sub-distributors Central Partnership and Karo Premiere, respectively). It is important to note that Russian films make up a good deal of the major studios' line-ups. Independent film distribution companies will also make presentations. One of the things that makes Kino Expo different from, let's say, Cinema Expo in Amsterdam is that we must screen twice as much content, provided not only by major studios, but also by independent distributors offering Russian and European films.
It is noteworthy that the Russian subsidiaries of major studios are very successful in distributing locally produced films. Due to the rise in production of the new quality Russian films, we had to add one more day to our convention this year, in order to accommodate ever-growing demand for screenings and film presentations. Besides product reel and footage presentations, about ten feature film screenings are expected.
The Kino Expo 2010 trade fair will be the biggest ever, with both Russian and international participation. Contrary to some forecasts, which predicted a decline in trade fair business in the Internet era, trade fairs remain one the most effective ways of communicating to customers!
How many delegates do you expect this year, compared to last year?
Last year's attendance, despite economic troubles, was very high and we do not expect much growth. There are about 450 cinema exhibition-related businesses in Russia, which operate about 2,250 screens. With a little less than 1,000 delegates, Kino Expo is now attended by practically all important players in exhibition, distribution and production in Russia and the CIS.
Who are your major sponsors this year?
The Coca-Cola Company remains our main partner and general sponsor and continues increasing its support to Kino Expo for the 12th consecutive year. Coca-Cola's contribution to Kino Expo's success is remarkable and unrivaled.
I must single out our very successful and mutually beneficial cooperation with Christie Digital Systems. Christie continues to take the spot of Kino Expo d-cinema partner and major sponsor for the sixth consecutive year. Our joint work with Christie's team of professionals and their partners in Russia led to a real d-cinema breakthrough in Russia, with Christie dominating the market share. Christie's support of Kino Expo is remarkable and keeps growing.
Nevafilm has been Kino Expo's best friend for 12 years now, and remains general partner on cinema technologies, providing equipment and expertise for all the screenings and arranging a special training center on the trade-fair floor for cinemas' technical staffs.
Our cooperation with Dolby Labs has been just as successful. Dolby 3D is by far the most employed 3D system in Russian cinemas. Our sponsors this year are: 20th Century Fox CIS, Central Partnership film distribution company, Kinoproject, Karo Film cinema circuit, Texas Instruments DLP Cinema, Volga film distribution company and XpanD. Viking is our technical sponsor.
How much has the Russian market grown in the past year? And what are the fastest-growing markets in Russia and the CIS?
According to data collected by Russian Film Business magazine, in 2009 there was a slight decline in CIS (excluding Ukraine) box-office growth compared to 2008: US$740 million from $830 million in 2008. This decline was only due to the ruble's 30% devaluation against the U.S. dollar, which was the result of the world economic crisis. The average cost of tickets in U.S. dollar denomination fell 22%. This year, despite the devaluation effect, CIS (excluding Ukraine) box office fully rebounded, and as of August 1 is already US$724 million, which is 57% (!) up from the same period last year. By the end of the year, the box office is expected to reach the US$1 billion mark, reaffirming Russia's place among the world's top cinema markets. Admissions are up 25%!
Russia remains the fastest-growing market in the CIS, but there's notable growth in all other markets. Russian film distribution companies cover the territory of the former USSR—this huge Russian-speaking community, where in most countries people in cinemas watch Russian films and Hollywood films with Russian translation. The CIS still represents one cultural unity, where millions of people still share some common cultural values and entertainment habits.
The most important markets besides Russia are Ukraine and Kazakhstan. The new Ukrainian government finally cancelled mandatory Ukrainian-language dubbing of Russian films, but still does not allow exhibition of Hollywood films in the Russian language. In a country where every one of its 50 million people speak Russian, and over 40% consider the Russian language to be their native tongue, this remains a big problem for the local exhibition community and seriously limits growth. Ukraine's economy was hurt most during the crisis, and once-ambitious multiplex development projects have been delayed.
The Kazakhstan cinema market has also been steadily growing, but no credible statistical data is available.
Other former USSR countries will also be present at Kino Expo, including Belarus, Moldova, Armenia, Georgia and Azerbaijan. The European Union member countries Estonia, Latvia and Lithuania are also a market for films in Russian language, and so cinemas from these countries attend Kino Expo. Delegates from Middle Asian countries also attend Kino Expo on a regular basis. Therefore, we can definitively consider Kino Expo an international convention, covering the markets of 15 countries where the Russian language is spoken, representing over 300 million people.
How much has digital cinema grown in the past year?
D-cinema is the most exciting thing about the Russian cinema market this year! Right now there are 520 d-cinema screens (all of them 3D) in Russia; this is already 23.2% of all screens. In December 2009, there were 353 d-cinema screens, so six months' growth is a fantastic 47%! Unfortunately, d-cinema growth is now limited by equipment vendors' capabilities. This becomes a real problem for exhibitors, who wish to install more d-cinema screens but have to wait a few months for delivery.
Tell us about the impact of the new 3D films.
The impact was quite outstanding, starting with Avatar, which collected an incredible US$113 million, with 70% of the revenue coming from 3D screens. Box-office grosses of other 3D releases also impressed: Shrek with $51 million, Alice in Wonderland with $42 million. Those exhibitors who bought d-cinema/3D equipment last year have already recovered their investment. There is no doubt that 3D has been driving box office up, so demand for d-cinema well exceeds supply. The only limitation for further growth is supply shortage.
How did Russian film productions do in the past year?
Russian productions do very well. The top ten Russian releases brought about US$107 million starting in January. I can't help but mention the first Russian 3D animation feature, Belka and Strelka: Star Dogs, which did well at the box office, and the comedy What Men Talk About, which collected US$12 million with only a $2 million production budget.
As CEO of Kinoalliance, the Russian Exhibitors Association, what are the most important issues you're dealing with?
The Russian film exhibition industry is currently faced with a whole array of acute problems. Many of these problems have been known for a long time, but it is specifically now during the economic crisis that these problems are of a really threatening nature. And now we can only solve these problems together. Our top priorities are: consolidation of all Russian cinemas into a strong organization with lobbying powers, interaction with government authorities, expanding and diversifying cinema audiences, and streamlining interaction with film distributors with regards to making d-cinema and 3D available to all cinemas in this country. This is very important, considering that the d-cinema rollout in Russia is financed entirely by film exhibitors.
We have approached our government with a series of detailed proposals. First, we called upon the government to stimulate the digitization of cinemas. In our view, in order to do this, the import duty on d-cinema projectors needs to be temporarily suspended. Second, we emphasized the need to change the royalty rate for composers for public performance of their music in films during the screening of these films in cinemas, since the current rate (3% of the gross box office) is simply prohibitive for cinemas.
Third, it is high time that a government and cinema industry expert group is formed for improving the legal basis for introducing and developing new ticket sales technologies—Internet, touch-screen terminals, etc. This is only a very brief description of our address to the government.
Besides these key issues, there are a lot of other very important things, like release windows, PR/media coverage issues, promoting cinema-going, film theft, etc.
What are the benefits of Kinoalliance joining UNIC [the International Union of Cinemas], and your increased cooperation with NATO?
At our meeting during Cinema Expo in Amsterdam, UNIC members voted approval of Kinoalliance membership. The importance of this could hardly be underestimated. We must learn a lot from all of the European associations with regards to their functioning and benefiting their members. As for NATO, our cooperation will now develop via UNIC, as NATO and UNIC established strong ties and are working out consolidated positions on all important issues.
We fully support all initiatives which were put forward by the UNIC Working Group to make UNIC more effective. We hope that Russia, which has become one of the largest cinema markets in Europe, will also play an important role in UNIC. For instance, the music-rights issue is common to all cinemas in Europe, and we can join our expertise with European colleagues and raise this issue on the European level. Russia is now integrated in many pan-European structures
and we can collaborate on many major issues, such as digitization, relations with film distributors, film theft, and what we see as most important—working out new ways to increase cinema attendance and promoting cinema-going worldwide.
News source: Film Journal International News


Print this news
---
City news archive for 10 September' 2010.
City news archive for September' 2010.
City news archive for 2010 year.