City news
Allegro: first high-speed train to Russia
12.14.2010 04:56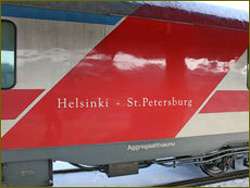 High-speed trains Allegro have finally been launched on route St. Petersburg-Helsinki-St.Petersburg. The first trip took place last Sunday, on December, 12, from Helsinki to St. Petersburg. The train will first make two trips a day, then amount of daily services is to be increased to four. Allegro can make 200 km/h and the trip takes about three hours and a half instead of more than six hours of journey by previous trains.
Such persons as Finland president Tarja Halonen Russian PM Vladimir Putin, top-managers of Russian Railways and other VIP persons took part in the first Allegro's journey. Valentina Matvienko, governor of St. Petersburg was waiting for the guests at Finlandsky Railway Terminal.
The trains Repin and Sibelius, making services between St. Petersburg and Helsinki are cancelled. Russian Railways emphasize that no suburban trains are cancelled in connection with Allegro launch. It is a progress, because timetable for suburban trains of Moscow Region was cut because of Sapsans. Many of them were cancelled, having caused displeasure of the people, going by suburban trains every day.
However, prices for new train service are bigger by half, than previous ones. Second-class ticket for Allegro costs 84 EU instead of 60 by Repin and Sibelius and 134 EU in the first class instead of 95-105EU. It means that some passengers will have to prefer bus or shuttle, but some new customers will prefer Allegro to plane or private car like it happened with Sapsans. If the tickets are sold beyond Finland and Russia, the tariff East-West is in effect.
The train makes stops in Vyborg (Russia) and in Vainikkala, Kouvola, Lahti, Tikkurila and Pasilo (Finland). The train leaves from Helsinki at 10. 00 and 15.00. It arrives at 13.33 and 18.33 to Vyborg and at 14.36 and 19.36 to St. Petersburg. Departure time for St. Petersburg is 6.40 and 15. 25, and 7.45 and 16.30 for Vyborg respectively. Arrival to Helsinki is at 9.16 and 18.01 respectively. There are two daily trips, but their amount increases to four this summer.
Allegro trains have one first-class car in the head of the train (48 places), five second-class cars (296 places) and one buffet car. Special places for passengers with disabilities, playing area for children and conference room. High speed for Allegro on the territory of Finland in 220 km/h and 200 km/h on the territory of Russia.
The ticket prices for trip St. Petersburg - Helsinki are: 84 EU for second class, 104 EU - second class with animals, 134 EU - first class. These prices are acute till the March, 21, 2011.
Allegro is the first train with customs control en route. It is carried out when the train runs between St. Petersburg and Vyborg. This takes one hour. Russian boarder guards and customs are in the buffet car, which is situated in the centre of the train. They move towards head and end of the train respectively. If the passengers de-train or take train in Vyborg, they go through customs and passport control at the railway station of Vyborg. Finnish border guards check passes on the section between Vainikkala and Kouvola. This new scheme lets to reduce journey time due to reducing stopping time in Vyborg and cancellation of train stop at the border station of Buslovsk
News source: Guarant-InfoCentre


Print this news
---
City news archive for 14 December' 2010.
City news archive for December' 2010.
City news archive for 2010 year.