Printed from: http://petersburgcity.com/news/city/2011/01/26/Russia_Morroco_260111/
City news, 26.01.2011 07:44
St. Petersburg: Morocco, Russia launch first sea route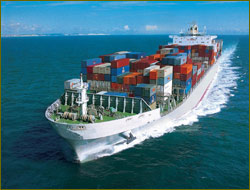 The first sea route between Morocco and Russia was inaugurated in Saint Petersburg (north-west Russia).
This new route, which is part of fostering bilateral commercial ties, will link Agadir port to that of Saint Petersburg, one of the main ports in northern Europe, and will enable transporting goods in no more than six days.
Speaking on this occasion, Morocco's Ambassador in Moscow Abdelkader Lacheheb said that the shipping route will increase the volume of bilateral trade exchanges and secure the logistics for transporting Moroccan products in a record time, while preserving them.
The route, managed by the Danish Maersk Line shipping company, will meet the expectations of the Moroccan and Russian businessmen to have access to markets while observing the standards of quality and security, he added.
News source: Global Arab Network