City news
Russia shows advanced naval weapons in St. Petersburg
07.01.2011 09:44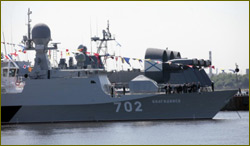 Russia's Tactical Missiles Corporation is displaying its advanced anti-submarine system, "Paket" at the International Maritime Defence Show that runs in St. Petersburg from the 29th June to the 3rd of July. The Corporation's display includes a wide range of missiles from powerful anti-ship missiles to portable anti-torpedoes. At present, small combat ships such as patrol boats, missile boats, multipurpose corvettes and patrol gunboats have become the most common warships among the navies of many countries. Their basic striking power is guaranteed by their missile systems. The "Uran" system equipped with the Kh-35E anti-ship missile is considered the visiting card of the corporation, says its director general Boris Obnosov.
"This is a universal missile that can be adapted to various types of aircraft. It can hit a target at a longer range. The standard missile has a range of up to 130 kilometers, while the Kh-35E can hit a target at a distance up to 250 kilometers. This is a competitive weapon because it's better than the best missiles of this class in western countries," says Boris Obnosov.
Other developments by the Corporation are the "Moskit" anti-ship missile system, the "Shkval-E" high-speed underwater missile system and the "Paket" small-sized heat-seeking anti-submarine system designed to engage enemy submarines or to intercept attacking torpedoes. All these systems surpass foreign weapons of the similar class by their technical characteristics, says Boris Obnosov.
Our main competitors are the U.S. and France, which also have similar anti-ship systems. However, these can't compare to the Russian "Paket" system. Moreover, the "Moskit" anti-ship system remains to be a deadly weapon. I can't see a system that can be compared to it," Boris Obnosov said.
The international show in St. Petersburg is a good opportunity to study new trends in the developments on the world weapon and military hardware markets and have a closer view of potential partners and buyers.
Among Russia's traditional partners is India. The Corporation hopes to conclude new contracts with it to supply anti-ship missiles. The former Soviet republics have shown interest in the weapon systems produced by the Corporation.
According to experts, competition on the world market for anti-ship missiles, which are considered as smart weapons, will grow in the future. The reason here is that missiles in these systems can also be used on ground installations and on board aircraft. Most likely, some countries are dissatisfied with the fact that Russia is a leader in this area and are making attempts to accuse it of violating certain laws and procedures. However, the Tactical Missiles Corporation is abiding by laws and fulfills all international obligations. Perhaps, it will be better if the western companies study the characteristics of its weapon systems.
News source: Voice of Russia


Print this news
---
City news archive for 01 July' 2011.
City news archive for July' 2011.
City news archive for 2011 year.