Printed from: http://petersburgcity.com/news/city/2011/07/22/St-Petersburg_Ballet_2207/
City news, 22.07.2011 01:53
St. Petersburg ballet to perform in Sochi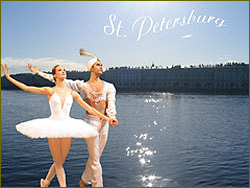 A large group of classical ballet dancers from St. Petersburg will show their skill at a gala concert of Russian ballet stars in Sochi.
This event is organized under the auspices of the Sochi-2014 Cultural Olympics. The annual Dance Open ballet festival will present the soloists of the Mariinsky and Mikhailovsky Theatres with their classical and modern repertoire.
The Sochi-2014 Cultural Olympics is a unique project of the first Winter games in Russia which will show the country's best artistic forces.
News source: Voice of Russia