Warning: current() expects parameter 1 to be array, null given in /home/webs/city.air.spb.ru/system/advert.robo on line 24
News at PetersburgCity.com


City news

Business news

Culture news
---
Hot topics


Visa Support

"Stars of the White


Nights" Festival

"Day of the City"


program
---
Popular search words this week

---
Warning: current() expects parameter 1 to be array, null given in /home/webs/city.air.spb.ru/system/advert.robo on line 24

City news
Aiming at world class
10.07.2011 08:46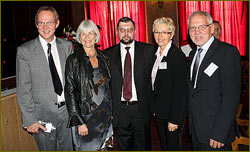 20 years of University cooperation between Bodø and Baltic State Technical Universities marks just the beginning of what the future will bring of creativeness and innovations in the northern regions, says Norwegian minister of Research and Education Tora Aasland.
When Bodø and Baltic State Technical University celebrated their long cooperation the focus was the potential of the future. The ambitions for the Norwegian – Russian cooperation are set sky high when the Norwegian minister for research and higher education states that:
- Our ambition is to establish the High North as a pioneer region in the world when it comes to human capacity for innovative and epoch-making research, said Minister Tora Aasland in St. Petersburg.
The anniversary conference focused on the possibilities for increased growth within the education, research and business sectors in the two countries. Aasland said that the way Bodø and St. Petersburg are cooperating set an example for how Norwegian and Russian partners should develop both competence and relations in the future.
Numbers presented at the conference also show that there is a strong growth in the number of Russian students in Norway. This year there are 1200 Russians studying in Norway, and the University of Bodø has the highest number of Russian students.
The dean of the University of Bodø, Pål Pedersen, highlighted the important international status which the University of St. Petersburg holds on High North related issues. Minister Aasland also called St. Petersburg not only the capitol of the Russian High North, but also the capitol of the entire High North region.
News source: BarentsObserver.com


Print this news
---
City news archive for 07 October' 2011.
City news archive for October' 2011.
City news archive for 2011 year.