Printed from: http://petersburgcity.com/news/city/2011/11/10/Wen_Jiabao_Spb_101111/
City news, 10.11.2011 07:28
Wen Jiabao Arrives in St. Petersburg for 10th SCO Prime Ministers' Meeting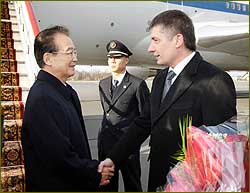 On the afternoon of November 6, 2011 local time, Premier of the State Council Wen Jiabao arrived in St. Petersburg, the second largest city of Russia for the 10th meeting of the Council of the Governmental Heads (Prime Ministers) of the Shanghai Cooperation Organization (SCO) Member States.
At 2:20 pm, the flight carrying Premier Wen landed at the Pulkovo Airport where senior officials of the Russian government and Chinese Ambassador to Russia Li Hui received him.
Wen told the reporter on the way to St. Petersburg that the task of the meeting is to gather consensus and lay down foundation for the development of next decade. The development of the SCO faces both some favorable conditions and challenges. He said that the Chinese side will elaborate policy propositions on the SCO's development under new circumstances and push member countries to deepen pragmatic cooperation on infrastructure and in other fields.
Vice Foreign Minister Cheng Guoping once said at the foreign ministry's briefing for Chinese and foreign media on November 1 that in the tenth meeting Premier Wen and other leaders will comprehensively review the progress of cooperation of the SCO last year, deeply analyze the current regional and international situation and plan for the next stage of work based on the implementation of Astana Summit consensus. It is estimated that this meeting will achieve the following results: first, fully exchange opinions on the world economic situation and the SCO regional economic situation, reach consensus on views and propositions and issue a Joint Statement; second, review the experience and outcome of economic and cultural cooperation of the SCO and plan for future priorities; third, continue to push forward the widely participated and win-win economic and trade cooperation and formulate measures to further boost project cooperation; fourth, improve organizational construction and improve the vitality of permanent agencies. Wen will deliver a speech to comprehensively expound China's propositions and raise specific proposals on the SCO's future growth. After the meeting, the heads of governments will issue a Joint Communiqué.
The SCO was established in Shanghai on June 15, 2001 with China, Russia, Kazakhstan, Kyrgyzstan, Tajikistan and Uzbekistan as member states. In September 2001, the heads of governments of SCO member countries held their first meeting in Alma-Ata, officially announcing the establishment of their regular meeting mechanism within the SCO framework. The meeting is held annually and non-routine meetings can be called according to the rules. The functions of the meeting include implementing the spirit and decisions of the Council of Heads of States, studying the strategies, outlook and priorities of developing multilateral cooperation within the SCO framework and addressing the issue of development cooperation principles in the practical areas defined by the charter, especially in the economic sector, like signing inter-governmental multilateral treaties and documents.
News source: Ministry of Foreign Affairs, the People's Republic of China