Printed from: http://petersburgcity.com/news/city/2012/05/11/victory_day_2012_110512/
City news, 11.05.2012 23:36
Residents, veterans of blockaded Leningrad honoured in St. Pete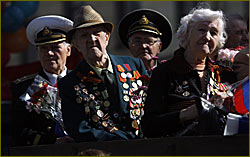 On Victory Day, St. Petersburg is paying tribute to the residents and veterans of blockaded Leningrad who have come from a total of 26 former Soviet republics and foreign countries.
The first on the agenda of the holiday is a military parade that's got under way in Palace Square, in the city centre.
Residents of Russia, Belarus, Germany, Denmark, Israel, Latvia, Lithuania, Estonia, Moldavia, Ukraine and other countries have marched in one column along the city's main avenue, Nevsky Prospekt, to pay tribute to the 67th anniversary of the Great Victory.
.Prior to the procession, a "Common Chalice of Military Glory" with the reunified Eternal Flames of the memorials in the Hero Cities and Cities of Military Glory were carried along Nevsky Prospekt.
The city's rostral column torches will be lit in remembrance of the fallen and to the glory of those living.
News source: Voice of Russia