Warning: current() expects parameter 1 to be array, null given in /home/webs/city.air.spb.ru/system/advert.robo on line 24
News at PetersburgCity.com


City news

Business news

Culture news
---
Hot topics


Visa Support

"Stars of the White


Nights" Festival

"Day of the City"


program
---
Popular search words this week

---
Warning: current() expects parameter 1 to be array, null given in /home/webs/city.air.spb.ru/system/advert.robo on line 24

City news
Zakharov shocks Chinese for springboard gold
08.08.2012 23:16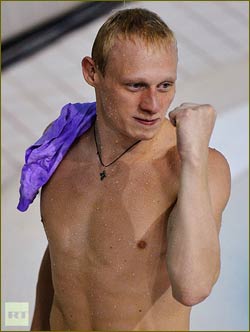 Russia's Ilya Zakharov has pulled off the impossible by beating the Chinese divers in the men's 3-meter springboard final at the London Olympics.
Zakharov was trailing to two-time Olympic champion, Qin Kai of China, before his final attempt.
He needed a perfect jump to move into first spot and the 21-year-old managed to come up with one, getting 104.50 points for his forward four and a half somersault.
The Russia topped the standing with 555.90 points, while favorite Qin Kai scored 541.75 points to settle for a disappointing silver.
It's a second medal for the Olympic debutant after he finished in second in the synchronized 3m springboard together with partner Evgeny Kuznetsov.
The bronze medal also went to China, with He Chong completing the podium in the event.
Zaharov's success is a significant achievement for Russian sport as the last time the country's athletes won Olympic gold on 3-meter springboard was the home games in Moscow 1980.
News source: Russia today


Print this news
---
City news archive for 08 August' 2012.
City news archive for August' 2012.
City news archive for 2012 year.

Culture news archive
August' 2012
Su
Mo
Tu
We
Th
Fr
Sa
1
2
3
4
5
6
7
8
9
10
11
12
13
14
15
16
17
18
19
20
21
22
23
24
25
26
27
28
29
30
31
Archive for 2012 year
---