Printed from: http://petersburgcity.com/news/city/2012/11/08/Zenit_Ander_kuku_081112/
City news, 08.11.2012 12:21
Mbokani downs Zenit to end Anderlecht drought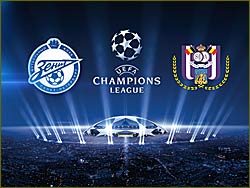 The man in the mask made the difference for RSC Anderlecht as the Belgian club clinched their first UEFA Champions League home win in nine years, Dieudonné Mbokani's first-half effort downing FC Zenit St Petersburg to revive his side's campaign.
Playing in a protective mask after suffering a broken nose last month, Mbokani scored Anderlecht's first goal in Group C after 17 minutes in Brussels, ending one drought to help the hosts be done with another of far longer standing. The Congolese forward and his colleagues then worked doggedly to preserve their lead, limiting Zenit to a handful of openings as they leapfrogged their Russian rivals in the standings.


John van den Brom, Anderlecht coach
We can be especially proud with the way we won. We have produced the goods in a match of importance, that is the beautiful thing about it.

Luciano Spalletti, Zenit coach
We did not produce our best performance. We tried our best but to be honest, could not create any good chances. If we win in the last two matches we may still qualify.
News source: UEFA